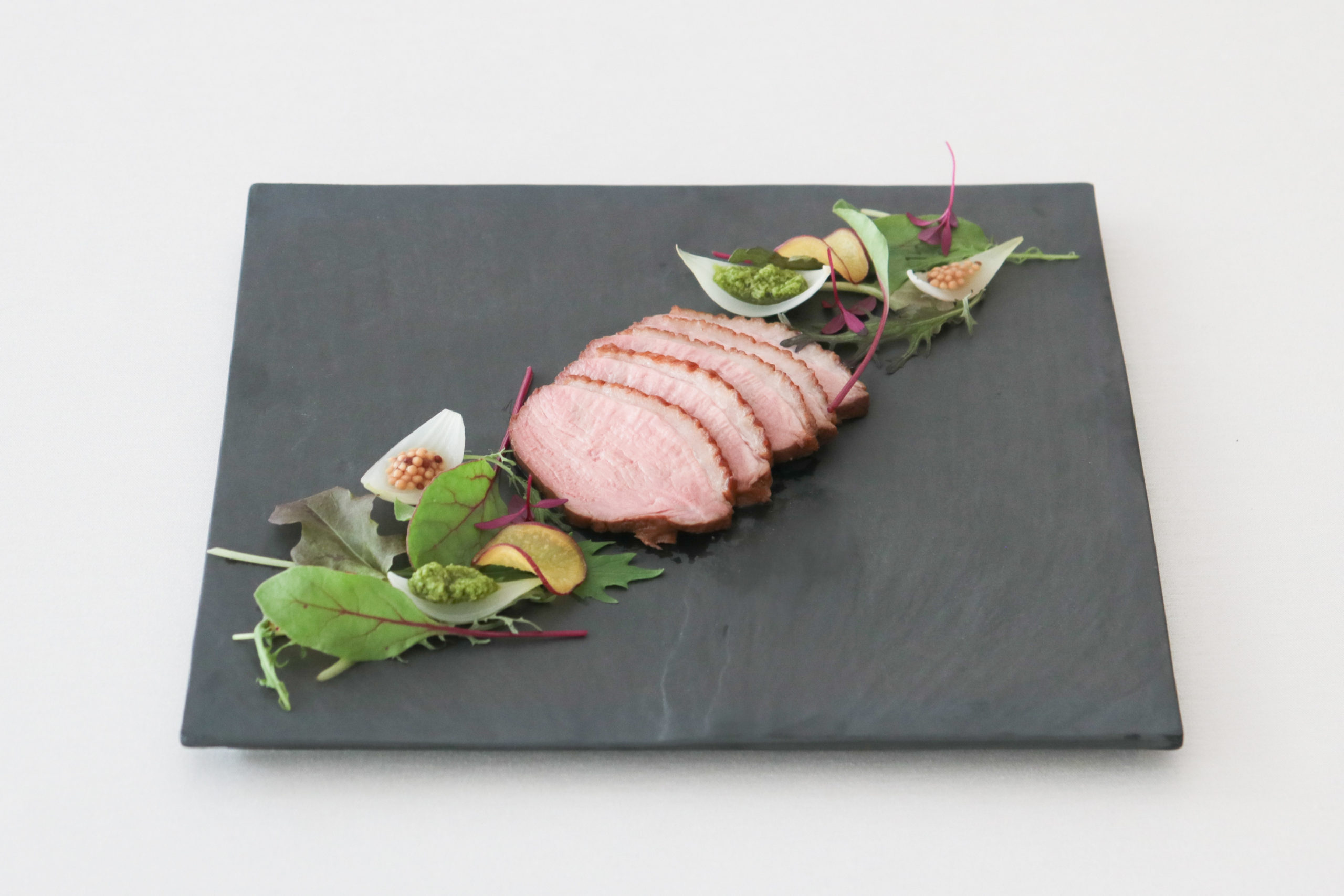 Duck loin with Kujo green onion sauce
A delicious duck meat dish is perfect to enjoy when the season gets colder. This time, I added sauce using Kujo green onion (a Kyoto vegetable) to roast duck, a dish popular in Japan. This vegetable is one of the traditional vegetables grown and savored in Kyoto. Its deep green leaves and billowing length are beautiful. It is characterized by its slimy mouthfeel. This time, in order to bring out the flavor of Kujo green onions, I made the sauce in a short time duration. You can also substitute it using regular green onions as well.
I used a square stone plate for this dish. The matte-textured black plate displays the dish elegantly. It may seem challenging to serve on a square plate, but if you arrange the plating with a diagonal line in mind like this, it will have a well-balanced finish.
Recipe
Ingredients
(amount for easy to make)
・Duck loin・・・1 piece (about 250 g)[Combined seasoning] ・Soup stock of bonito and kelp・・・200 ml
・Regular soy sauce・・・200 ml
・Mirin (Sweet sake)・・・200 ml
・Sake・・・100 ml
・Granulated sugar・・・2 and 1/2 tablespoon
・Baby leaf vegetables・・・Moderate amount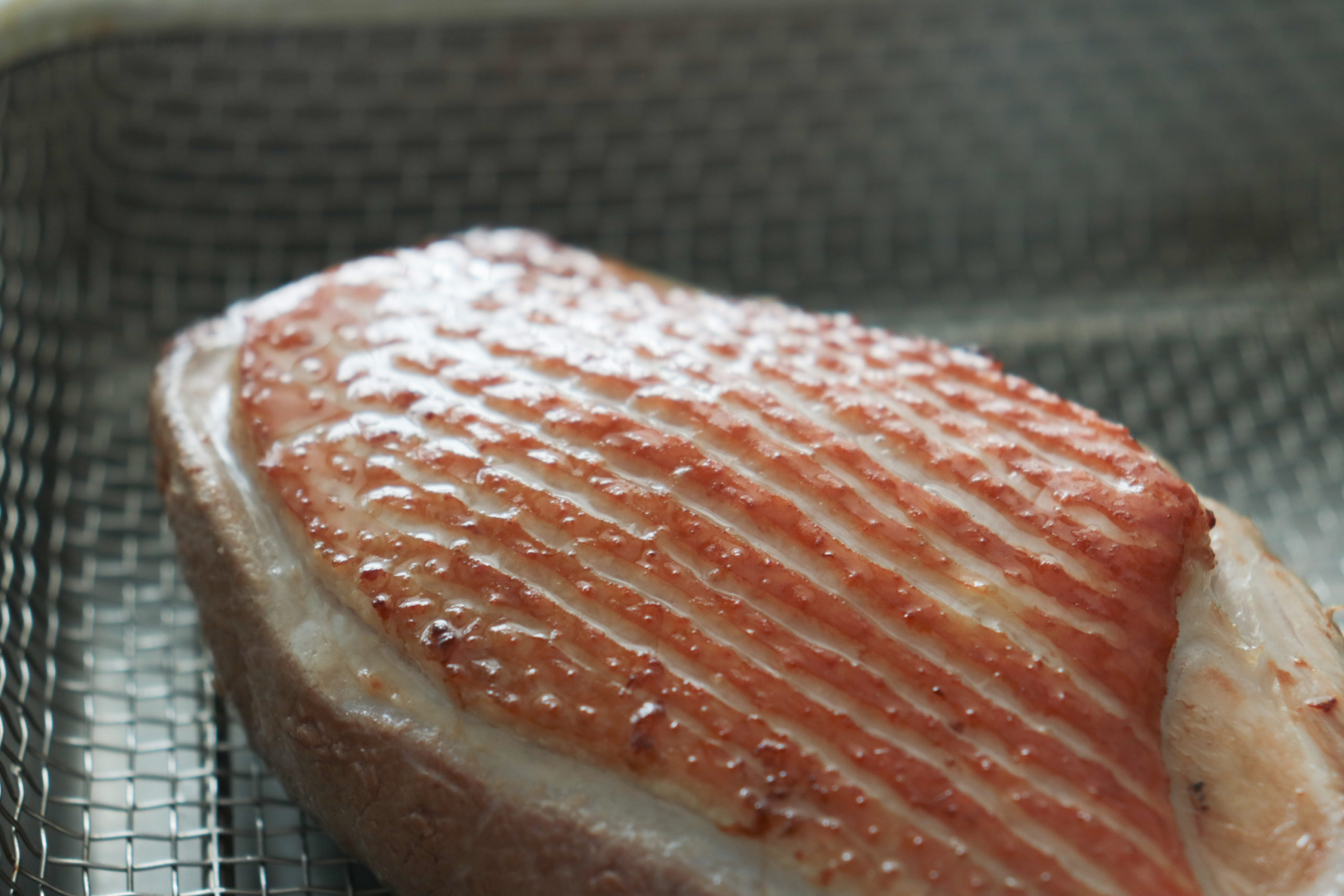 Preparation : Put the bowl in a steamer and heat it.
1.As a pre-treatment for the duck, remove any excess fat and thin skin from the lean meat, clean the center part, drain any excess blood, and absorb the moisture firmly with a paper towel.
2. Make a vertical cut on the skin. Put the duck skin-down before heating the frying pan and roast. (Oil comes out from the duck skin, so you don't have to use frying oil).
3.Add seasoning to a medium-sized pot, let it boil, and then add "2". Boil again and transfer the contents to a bowl in a heated steamer and steam for 10 to 12 minutes. Then, bring out the contents from the steamer and leave to cool.
4.Serve sliced duck, baby leaf, and Kujo green onion sauce on a plate, and it's done!
Recipe
Ingredients
・Kujo green onion・・・1 bunch(about 130 g )
・Ginger・・・1 fragment
・Salad oil・・・100 ml
・Rice vinegar・・・1.5 ~ 2 tablespoon(adjust the amount as you like)
・Salt to taste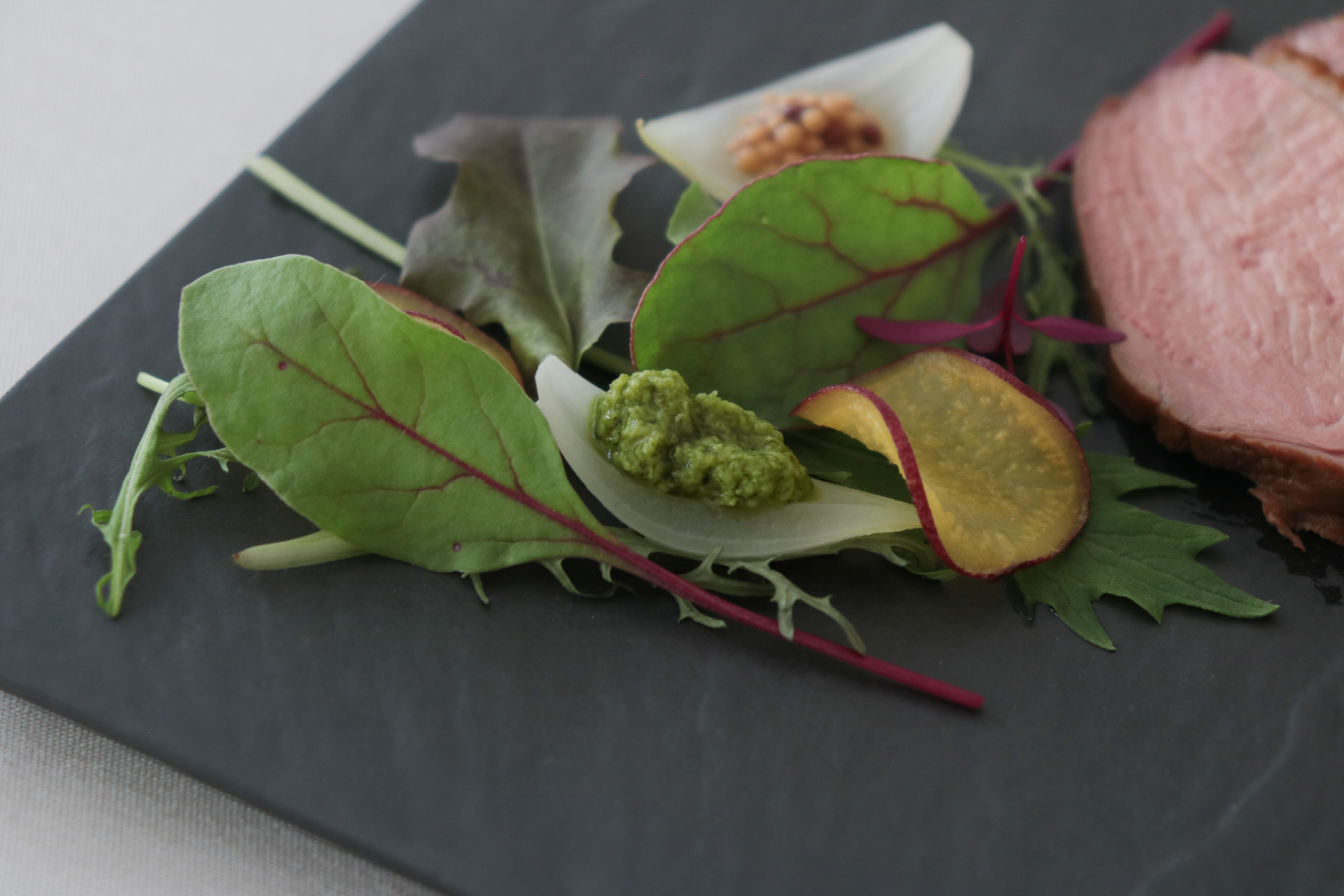 1.Boil plenty of water in a pot and boil Kujo green onions for about 10 seconds, dip it into ice water, drain and cool it in a colander. Then, squeeze it lightly to drain excess water.
2.Add "1" and the rest of the ingredients into a blender and blend.
For serving this particular dish, as sauce cups, I added small onions that have been steamed for 2 minutes and cut into wedges.
If you over-boil the green onions, the color will deteriorate, so please do not boil them too much.
The sauce can be stored in the refrigerator for 3 days and in the freezer for about 2 weeks.
Other than duck, this sauce is delicious when paired with other meats and fish.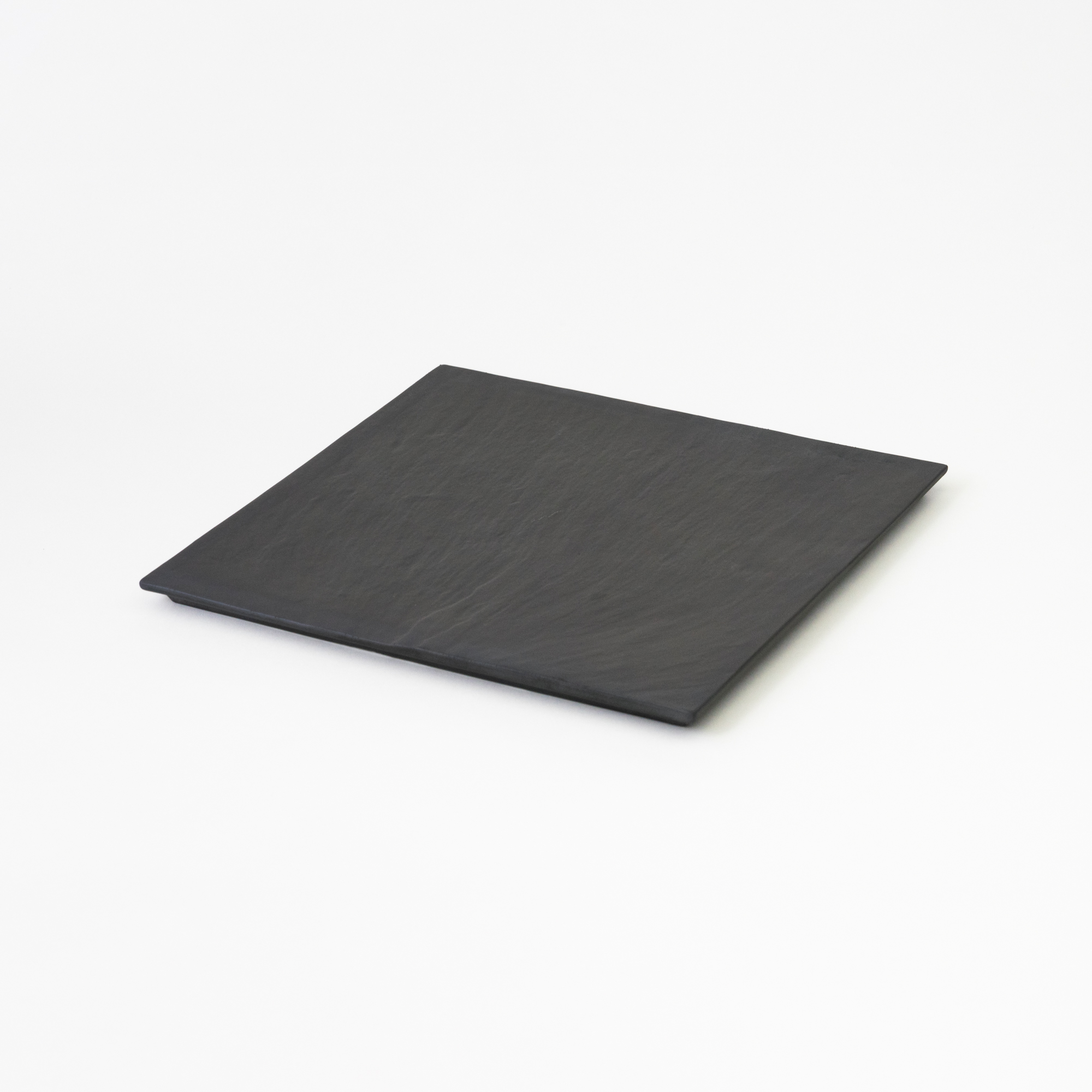 Square Stone Plate / 24cm (Black)
A matt finished porcelain slate to accentuate a beautiful plating. Minimalistic and subtle, made by Yamahei Porcelain from Arita, Saga Prefecture. A manufacturer known for its unique, innovative sense in porcelain-ware creation.
Area: Arita, Saga Prefecture
Brand: YAMAHEI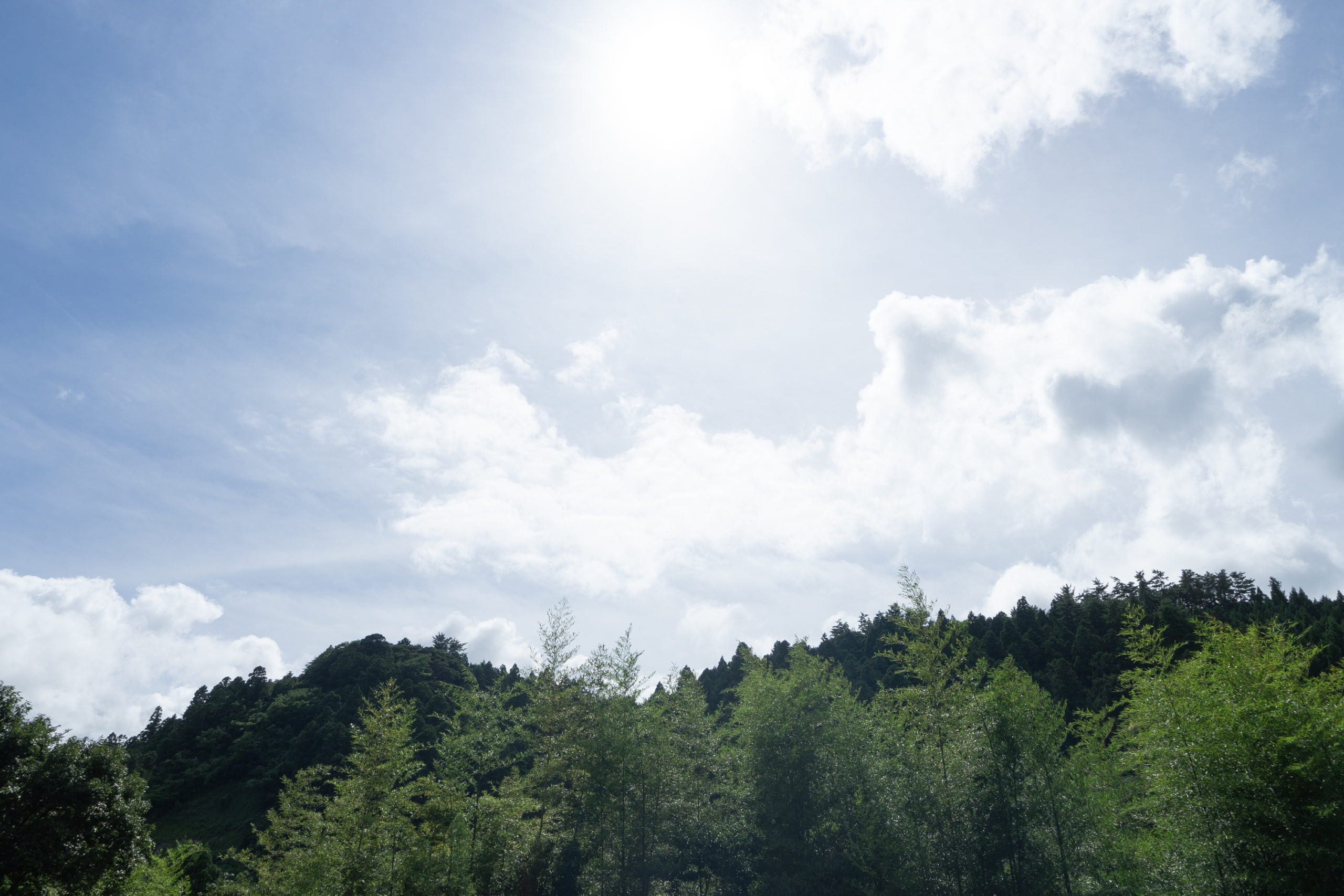 "Enpo Saryo – A Distant Tea House" is an imaginative restaurant created by HULS Gallery to inspire people with the beauty of food and dining. We aim to introduce a series of full-course meals that will take you beyond the ordinary but can be prepared at home, created exclusively for HULS by innovative chefs from Japan and around the world. Enjoy the harmonious combination of these special dishes with unique lacquerware, ceramics, and other tableware carefully selected by HULS Gallery. Complete with inspirational photographs and full recipes in both Japanese and English, and available online through the HULS Gallery website and social media.