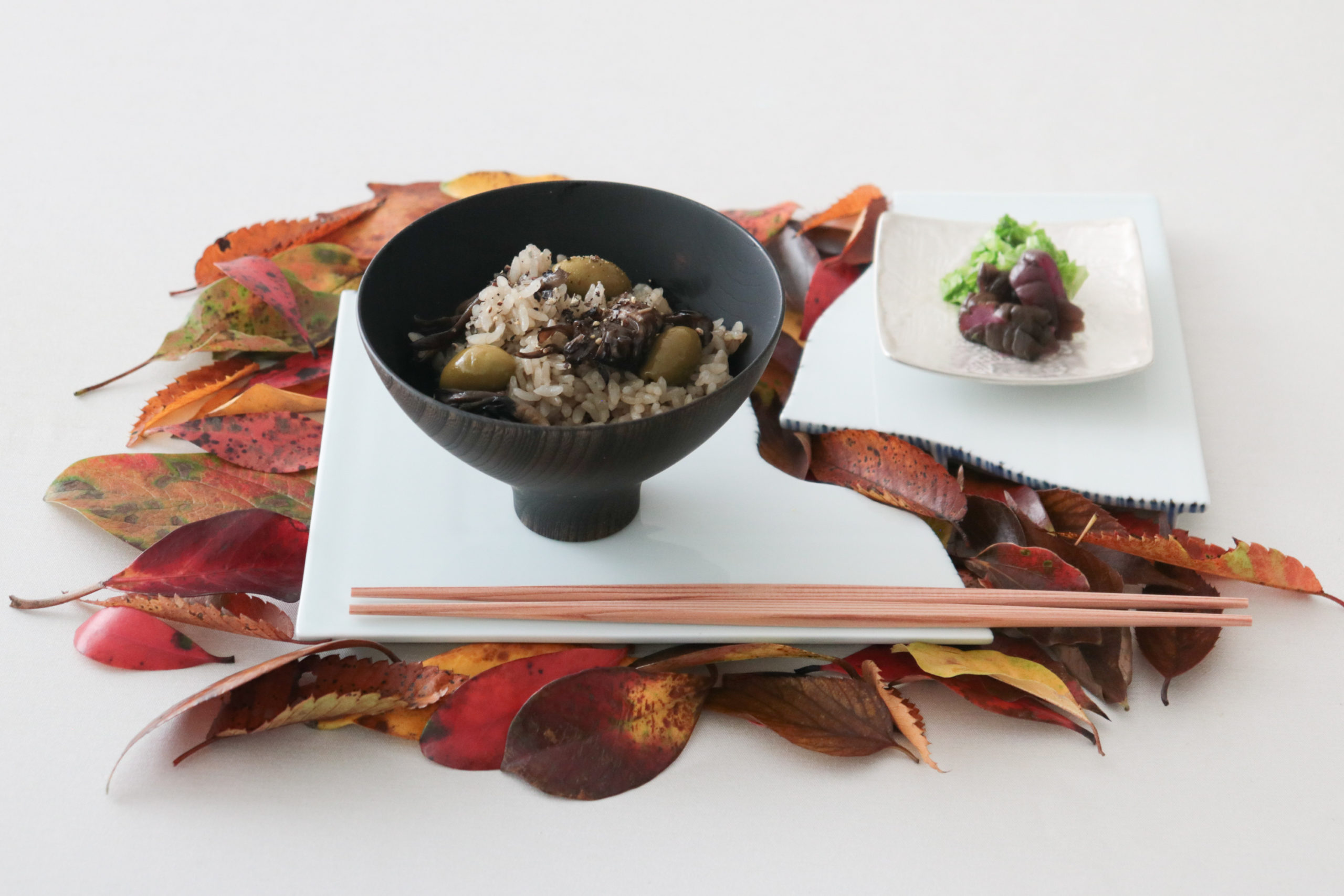 Rice cooked with Maitake mushrooms and green olives
In Japan, many people consider "mushrooms" as seasonal autumn ingredients. Also, at this time of year, fresh, delicious rice are sold in many markets. Therefore, for this dish, I chose rice cooked with the delicious Maitake mushrooms with flavorful aromas.
Maitake mushrooms can be easily found in supermarkets regardless of the season, but natural Maitake mushrooms will start to be available from September to late October. There are many theories about how the name came about. The Japanese Kanji character literally means "dancing mushrooms". Legend has it that this delicacy used to be so rare and delicious that those who find it will be so joyful they'll start to dance.
Maitake mushrooms go well with dishes that use oils and fats such as tempura or butter saute, so I prepared rice cooked with high-quality olive oil and green olives. It is also a nice finishing touch to sprinkle some ground pepper before serving.
The vessel I used this time is a stylish wooden bowl with a beautiful grain that makes you feel the soft and warm textures of zelkova wood when you hold it. I also used a plate with a unique and playful design as the underplate to accentuate the unique combination of olives and maitake mushrooms.
Recipe
Ingredients (for 2 servings)
・Rice・・・2 go (about 300 g)
・Maitake mushrooms・・・120 g
・Salted green olives・・・15 ~ 20
・Exv. olive oil・・・1 Tablespoon
・Ichiban-dashi (first brew of soup stock)・・・Same amount as the rice
・Salt to taste
・Black pepper for seasoning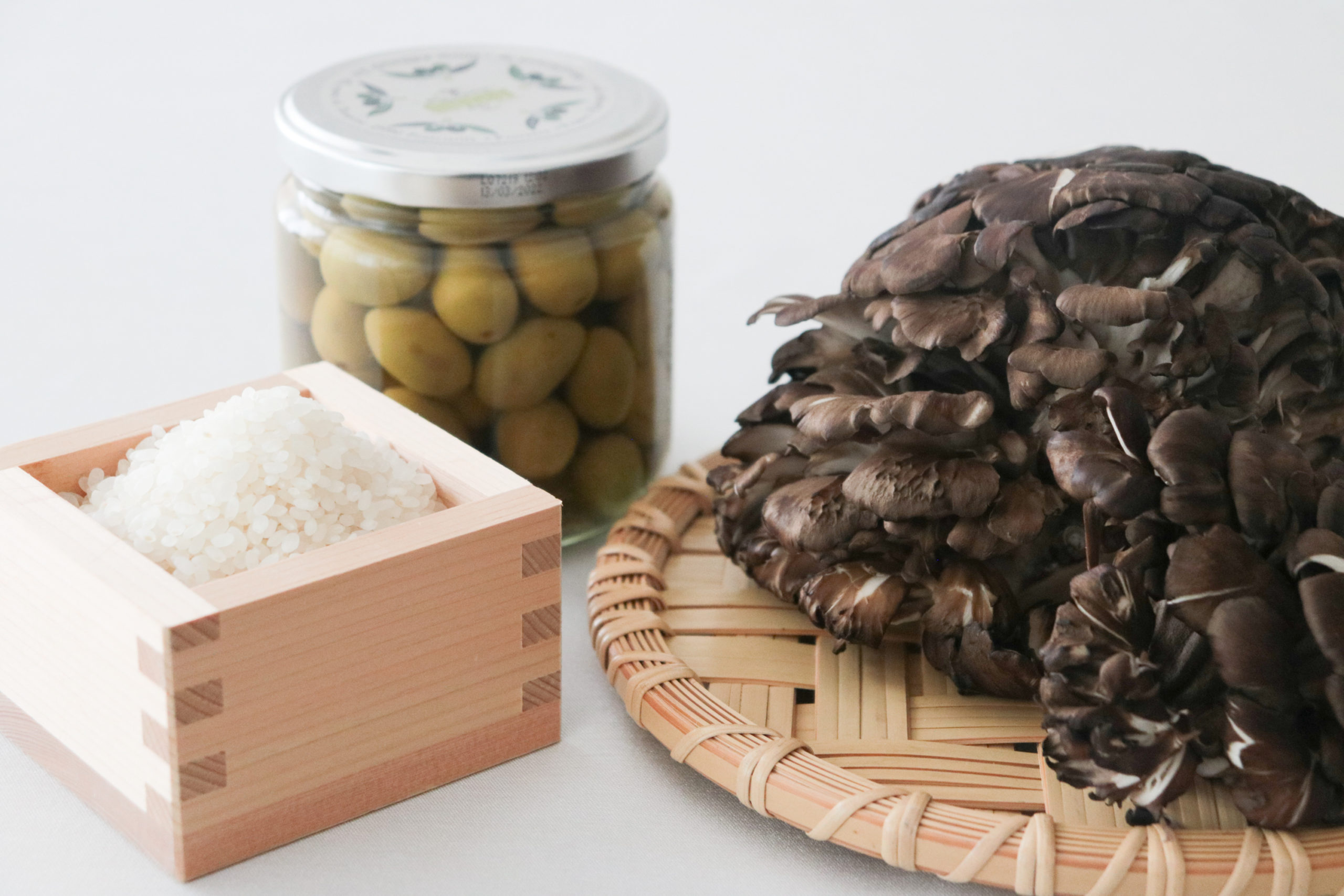 1/Wash the rice, drain it in a colander and leave it for about 30 minutes.
2/Divide the Maitake mushrooms into small bunches, drizzle with olive oil (not listed on the ingredient list) in a frying pan and fry the Maitake mushrooms lightly.
3/Put the rice from "1", soup stock, maitake mushrooms from "2", and green olives cut in halves and seeded in a pot. When it reaches boiling point, cover and cook in medium heat for 10 minutes. (Do not open the lid while it is cooking). Turn off the heat and steam for 10 minutes with the lid on.
4/After steaming, drizzle Exv olive oil along the sides of the pot and stir the rice lightly with a spatula to prevent it from crushing. Serve it in a bowl and sprinkle salt and pepper on the rice.
When you cook the rice with a rice cooker, please use the "takikomi rice" mode if it is available as an option. (Some rice cookers in Japan offers this function). Otherwise, please use the standard white rice function.
At the time of "3" process, put the ingredients on top of the rice and cook. The rice will not be cooked properly if you cook the rice that has been mixed in with the ingredients.
The salt content of salted green olives varies, depending on the manufacturer. It is recommended that you adjust the taste with salt after steaming or just before eating.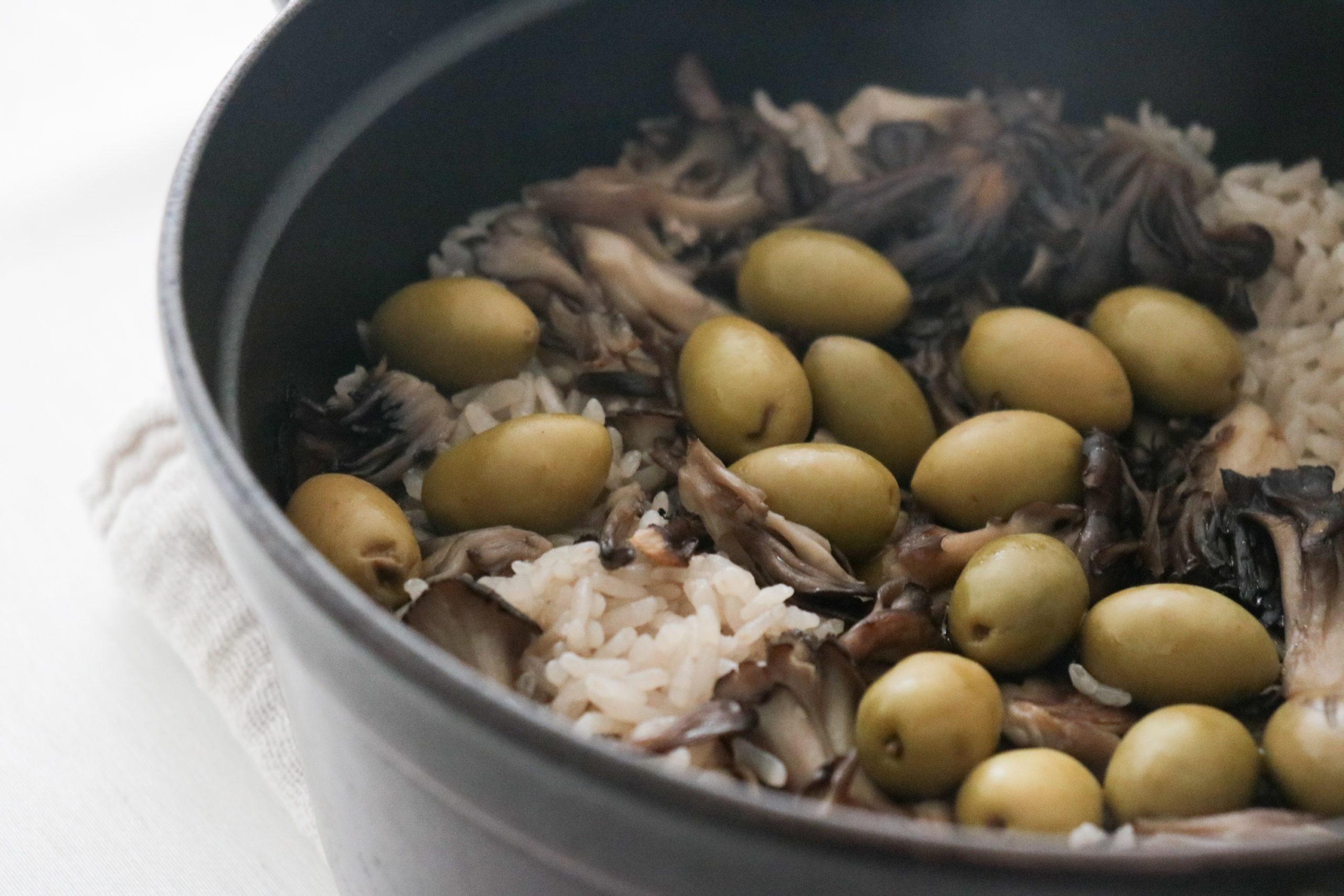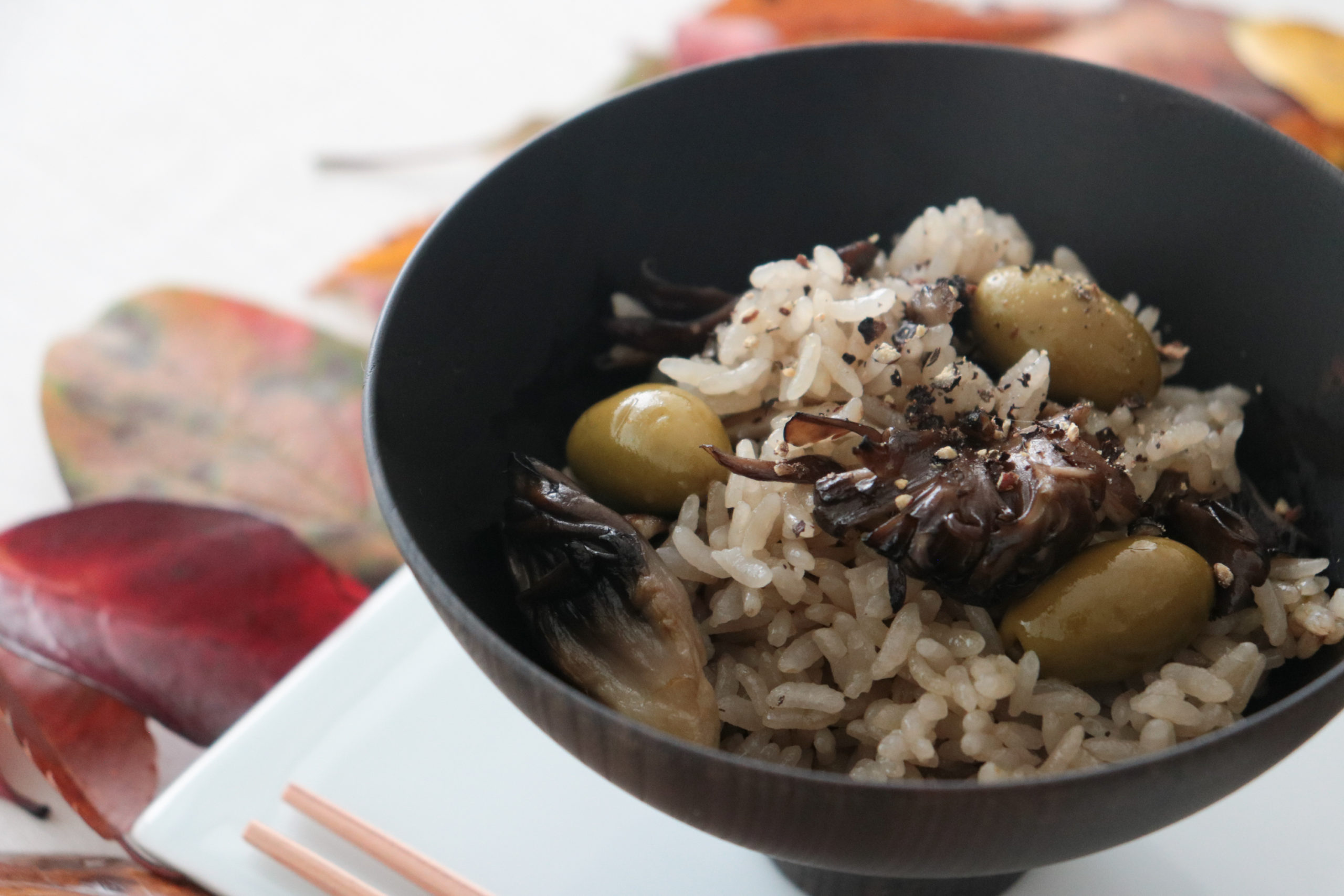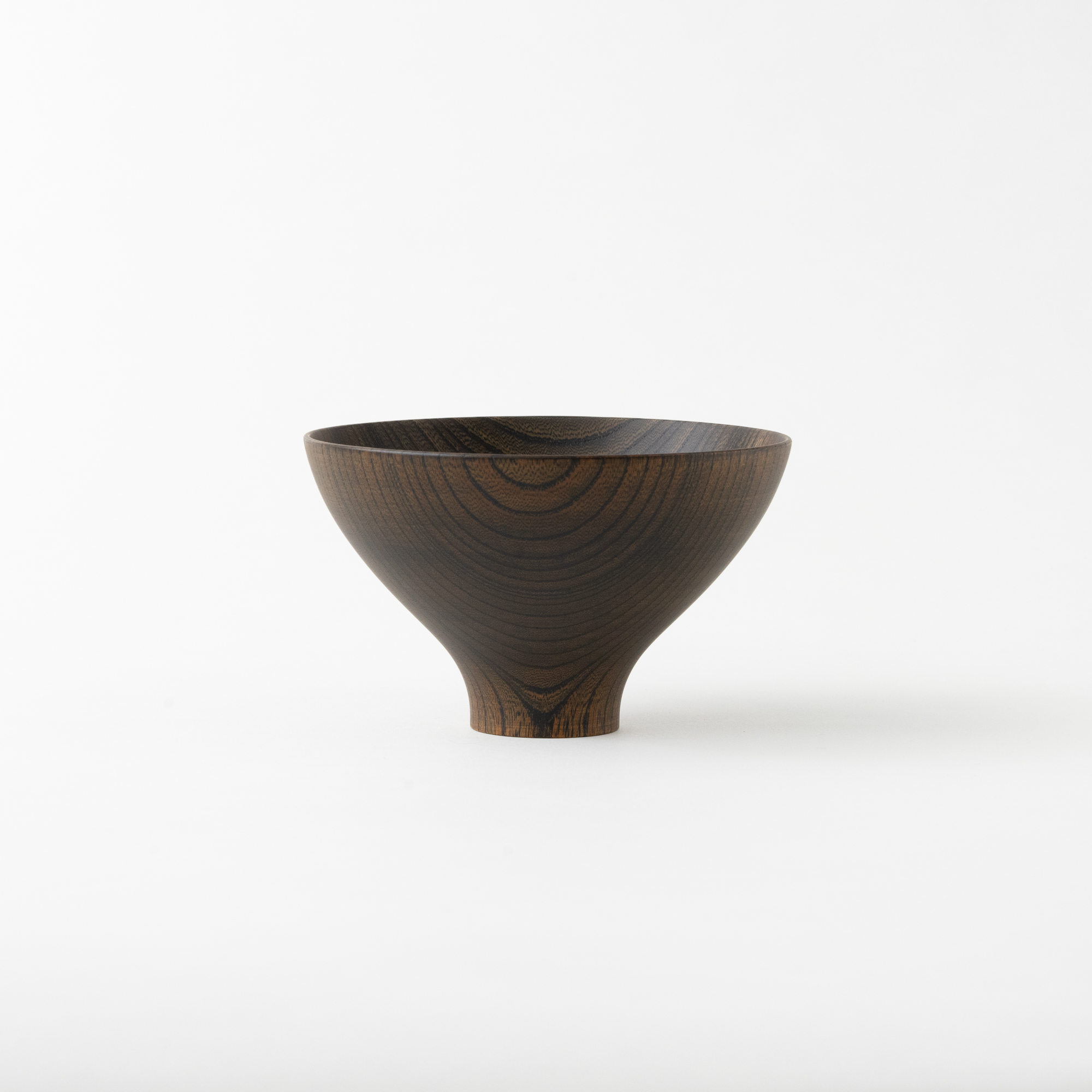 With the wood turning technique "kashokubiki", that has been passed down through many generations, the craftsmans form each bowl with sharp precision and sensibility, making elegant sculptural pieces that are beautiful yet practical for daily use.  This bowl is crafted by Gato Mikio, a manufacturer of Yamanaka lacquerware in Ishikawa Prefecture. 
Area: Yamanaka, Ishikawa Prefecture
Brand: GATO MIKIO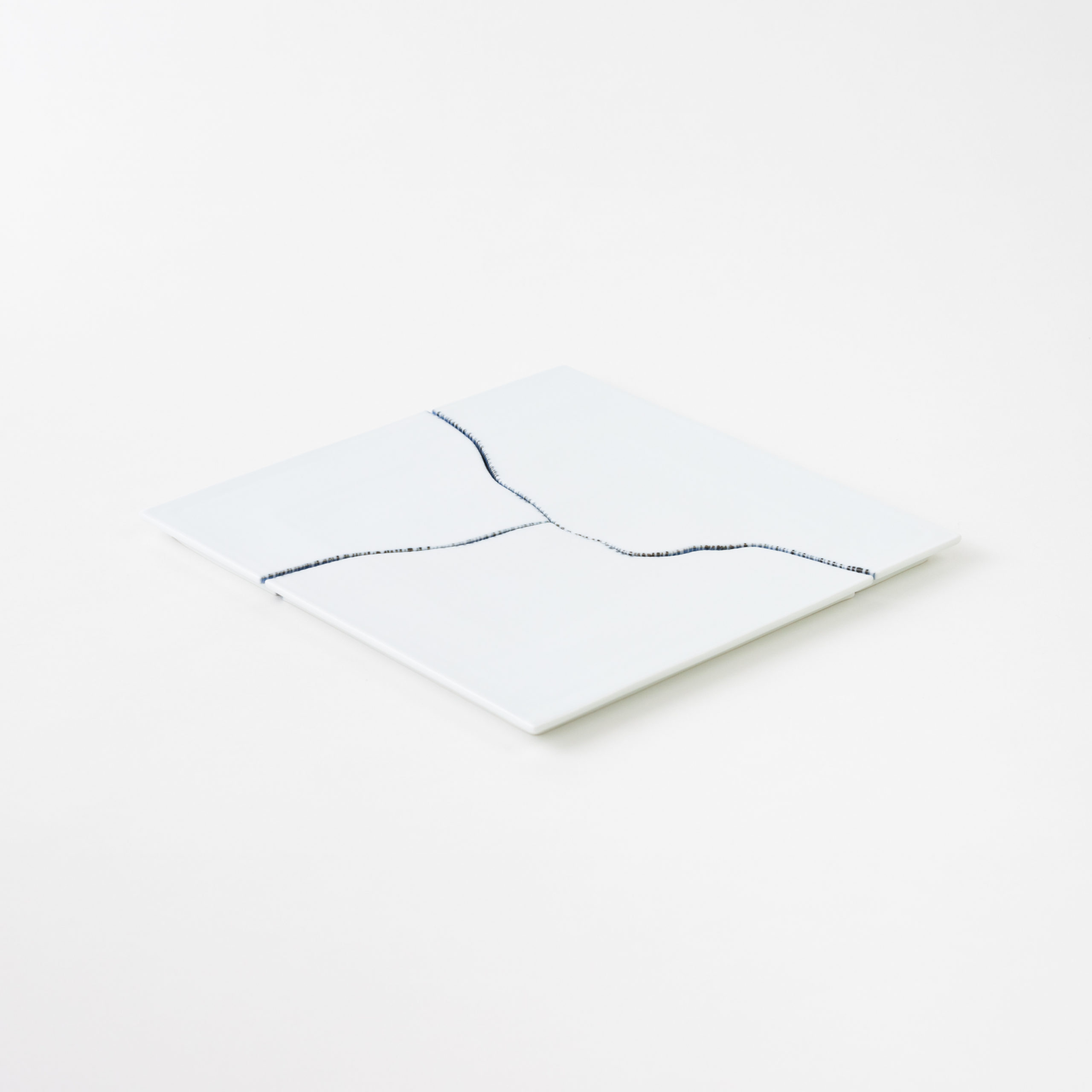 Ikomi / Square Plate (Free Form3 – Set)
Area: Arita, Saga Prefecture
Brand: FUKUJUGAMA
Material: Porcelain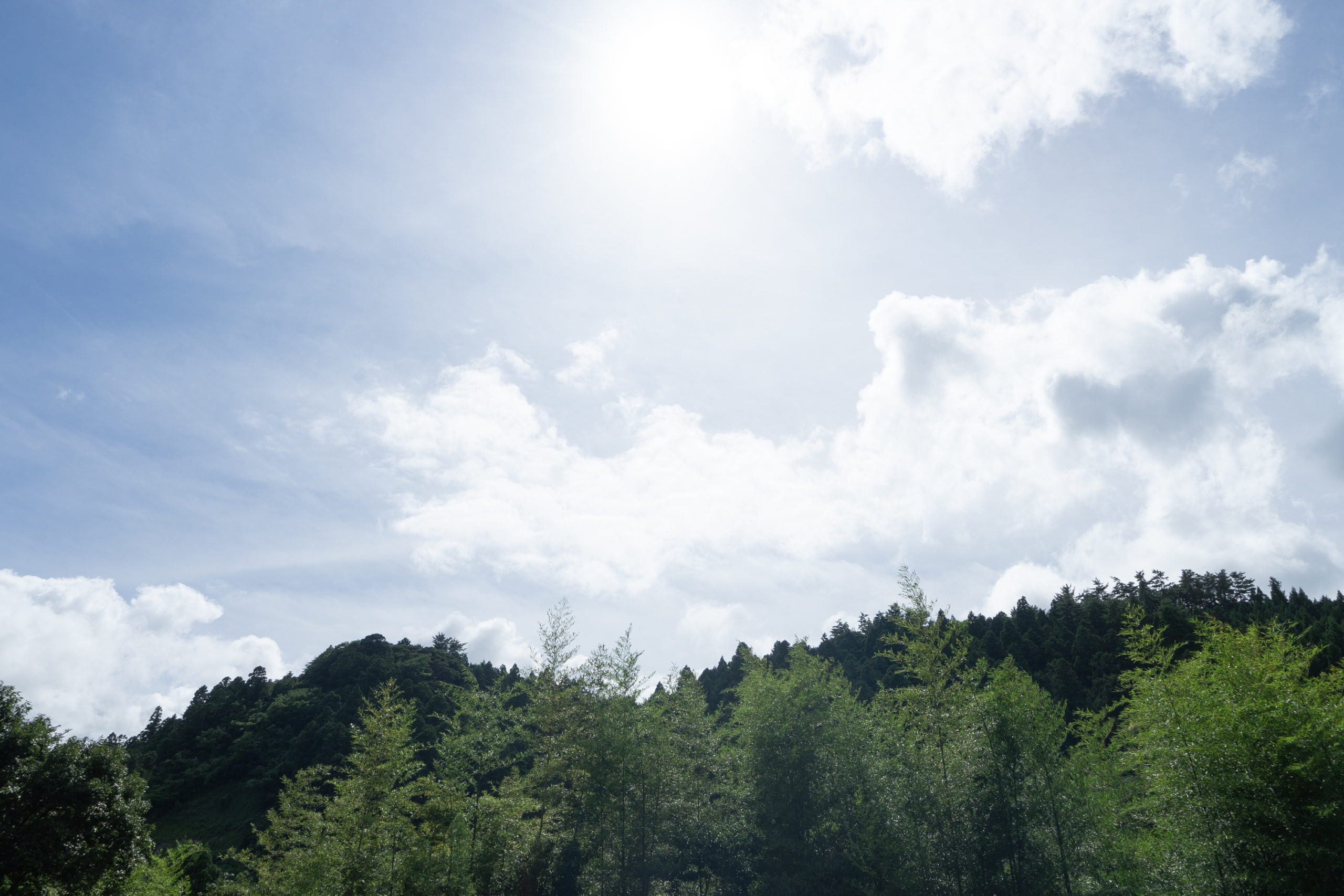 "Enpo Saryo – A Distant Tea House" is an imaginative restaurant created by HULS Gallery to inspire people with the beauty of food and dining. We aim to introduce a series of full-course meals that will take you beyond the ordinary but can be prepared at home, created exclusively for HULS by innovative chefs from Japan and around the world. Enjoy the harmonious combination of these special dishes with unique lacquerware, ceramics, and other tableware carefully selected by HULS Gallery. Complete with inspirational photographs and full recipes in both Japanese and English, and available online through the HULS Gallery website and social media.