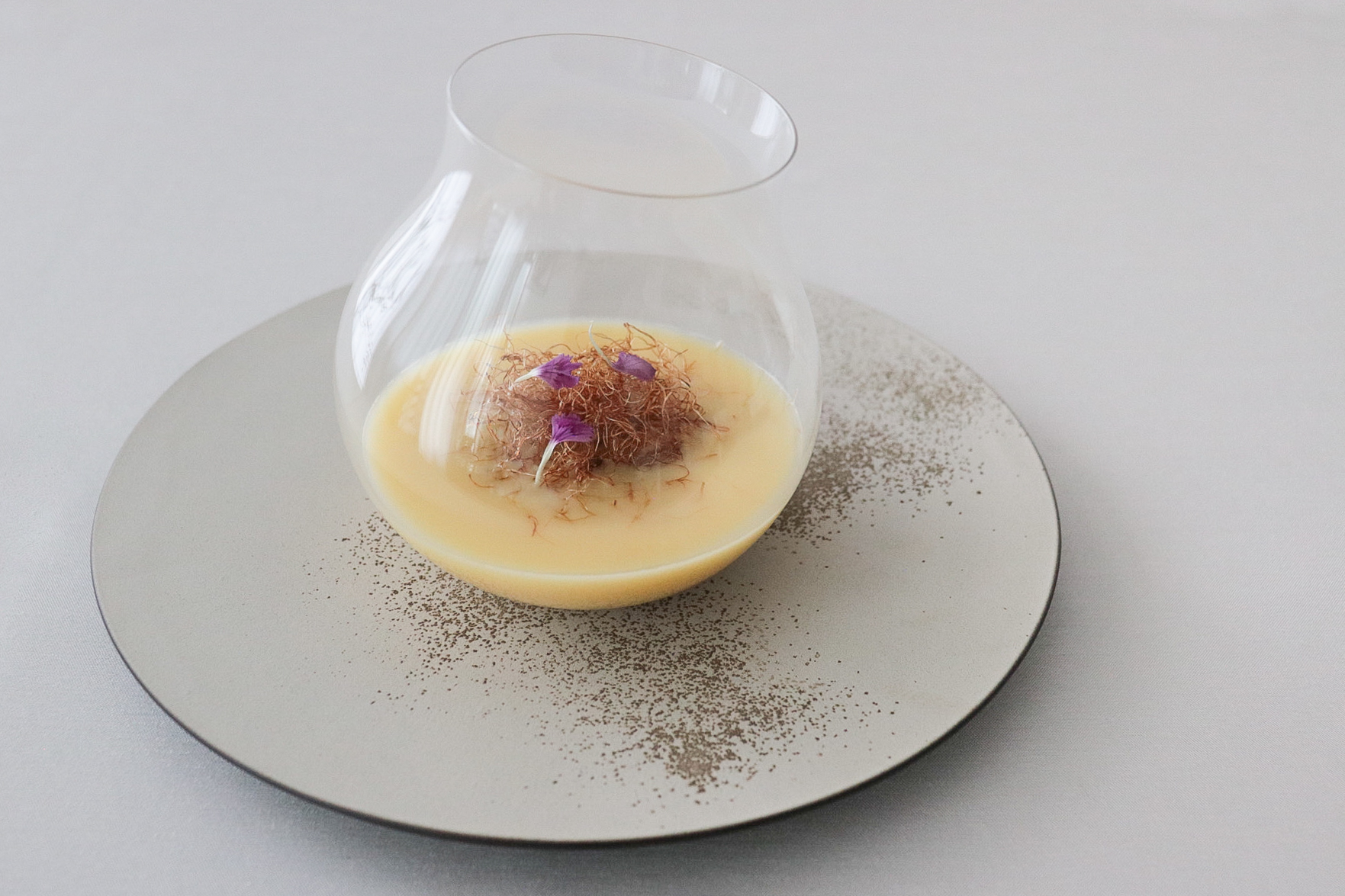 Pureed Corn Soup
Summer is the best season for corn. Corn at this time of the year is very sweet and tasty, so I would like to recommend a simple recipe. At first, I made this soup with stock. However, I found out that the taste of corn stands out better with salt and water instead of stock. Therefore I continued to use this recipe. Seasonal ingredients always teach me that simple recipes are the best. It is not catchy or gorgeous, but this is a dish that surprises you with the taste of the ingredients themselves.
Recipe
Ingredients (for 2 servings)
・2 Corns
・Water (Soft)
・Salt
For decoration
・Corn silk
・Frying oil
・Edible flower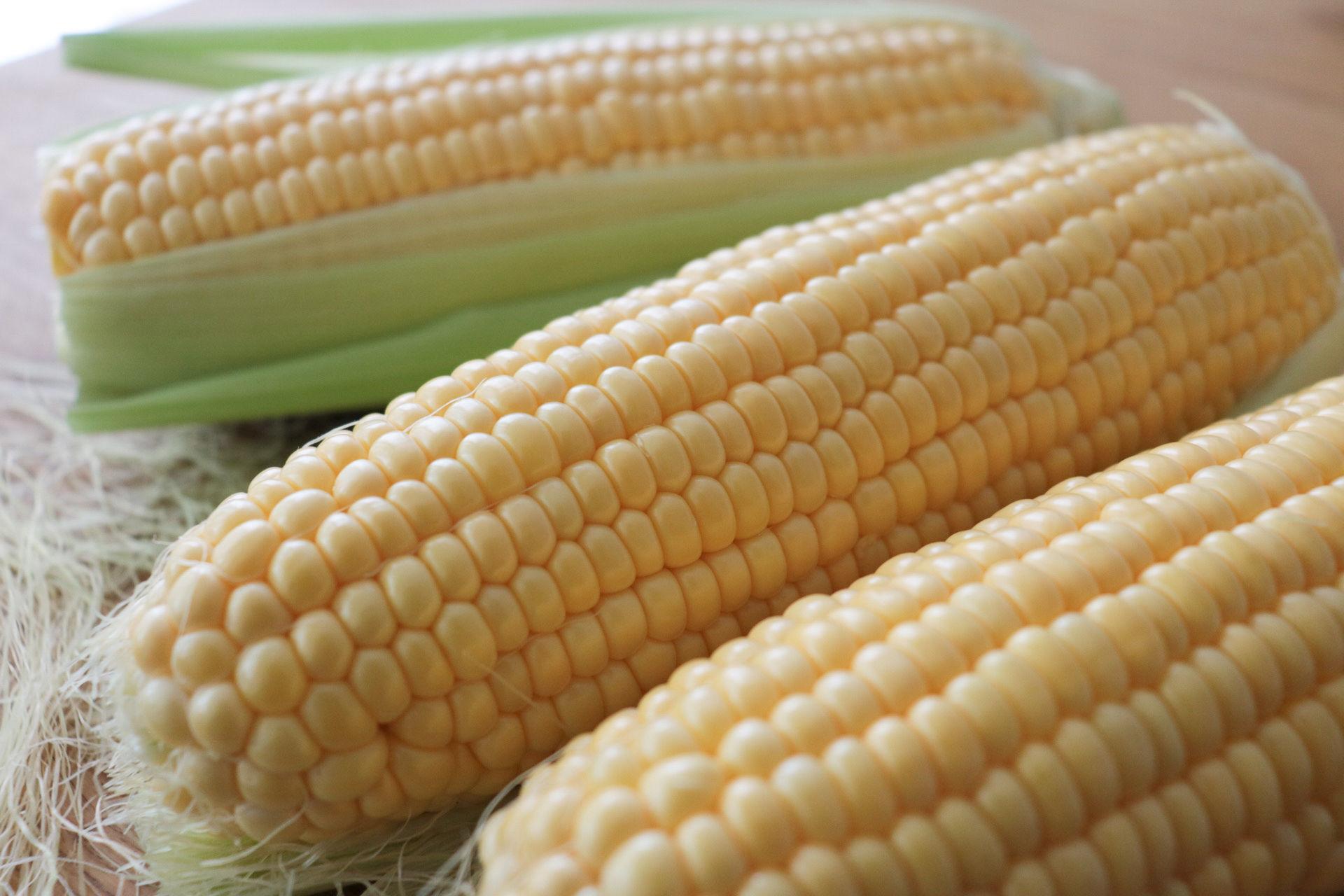 1. Peel corn and keep the corn silk for decoration. Remove corn from the corncob using a kitchen knife (the corncob will be boiled together, so do not discard them).
2. Put the corn, corncob, and a pinch of salt into a large pot and fill with water until all ingredients are covered. Bring to boil, reduce the heat and simmer for about 30 minutes. Carefully skim off any excess foam.
3. Once "2" is cooled, put the corn kernels into the blender and pour the cooked corn water until the kernels are fully covered and blend.
4. Transfer "3" to a colander and strain firmly. Taste the puree and adjust the taste with salt and cool it in the refrigerator.
5. For the corn silk decoration, fry the corn silk in oil at a low temperature of about 160 degrees. When it turns golden brown, take it out and rest it on a kitchen paper to drain the oil.
6. Serve the chilled soup in a bowl and garnish with fried corn silk and edible flower. And it's done!
・Do not discard the corncob. Boiling it together brings out the "umami" flavor.
・If you refrigerate the bowl in advance, you can create a more chilled atmosphere.
・Corn silk burns quickly if the oil temperature is too high, so please fry at a low temperature. Also, you do not need too much oil for this process.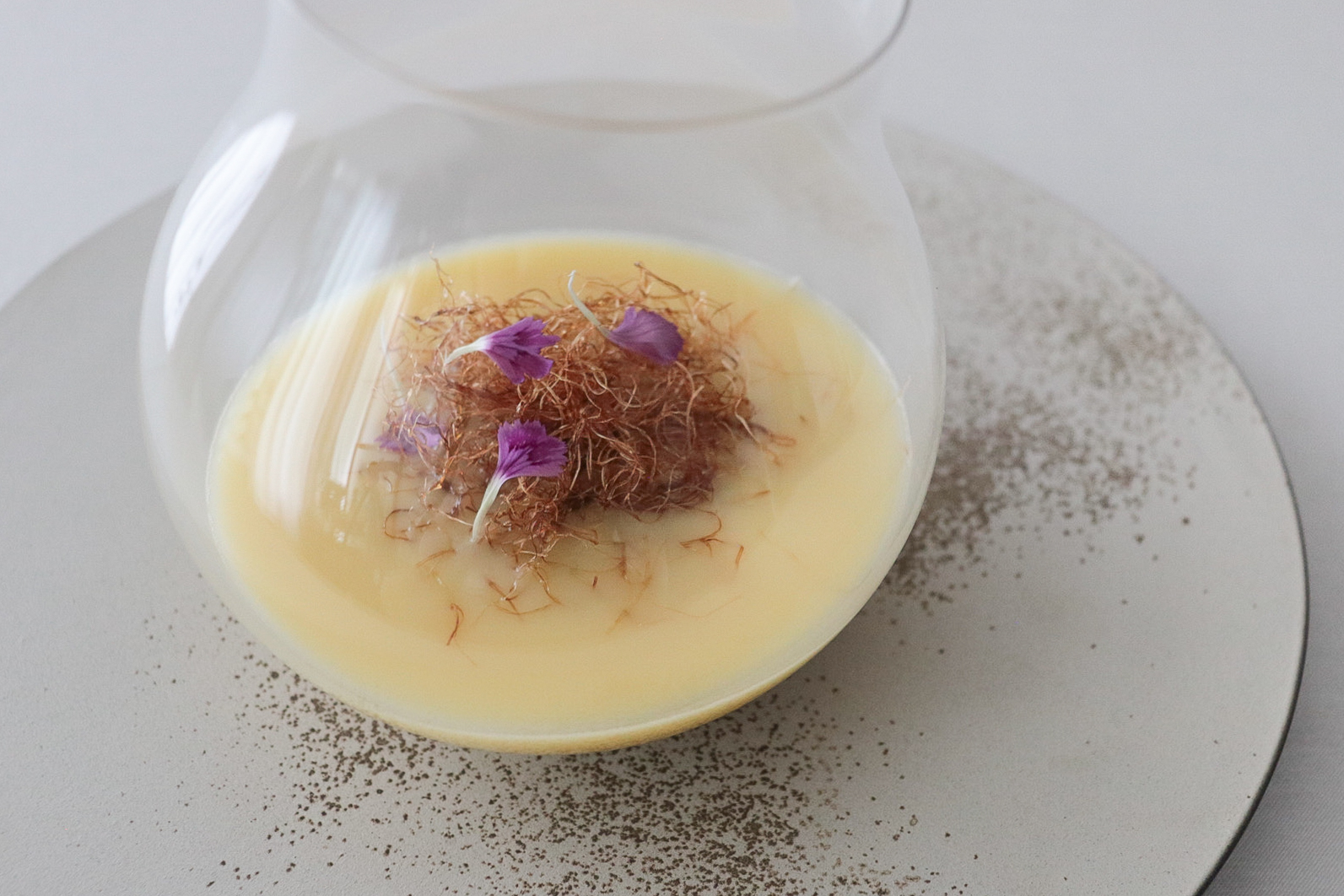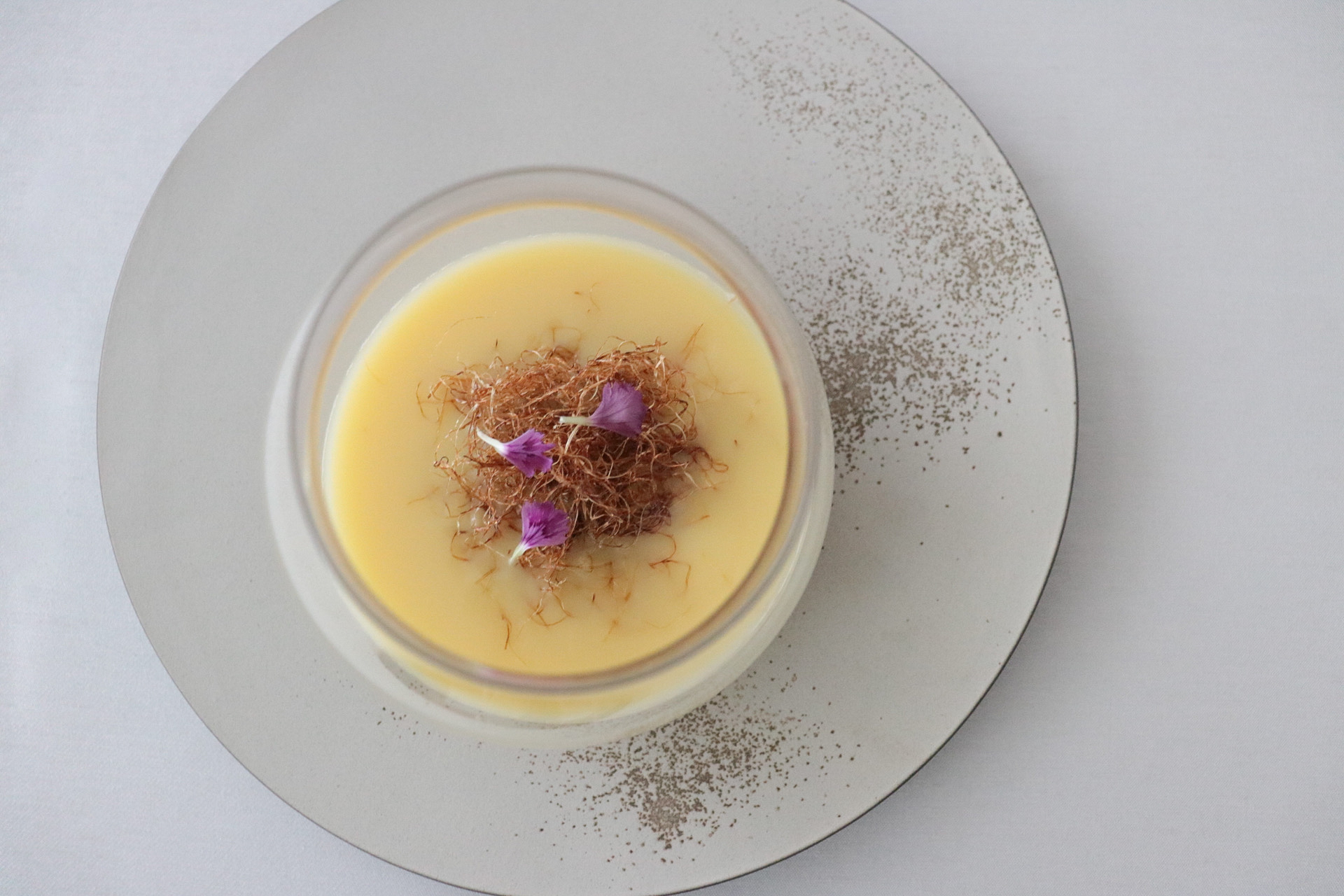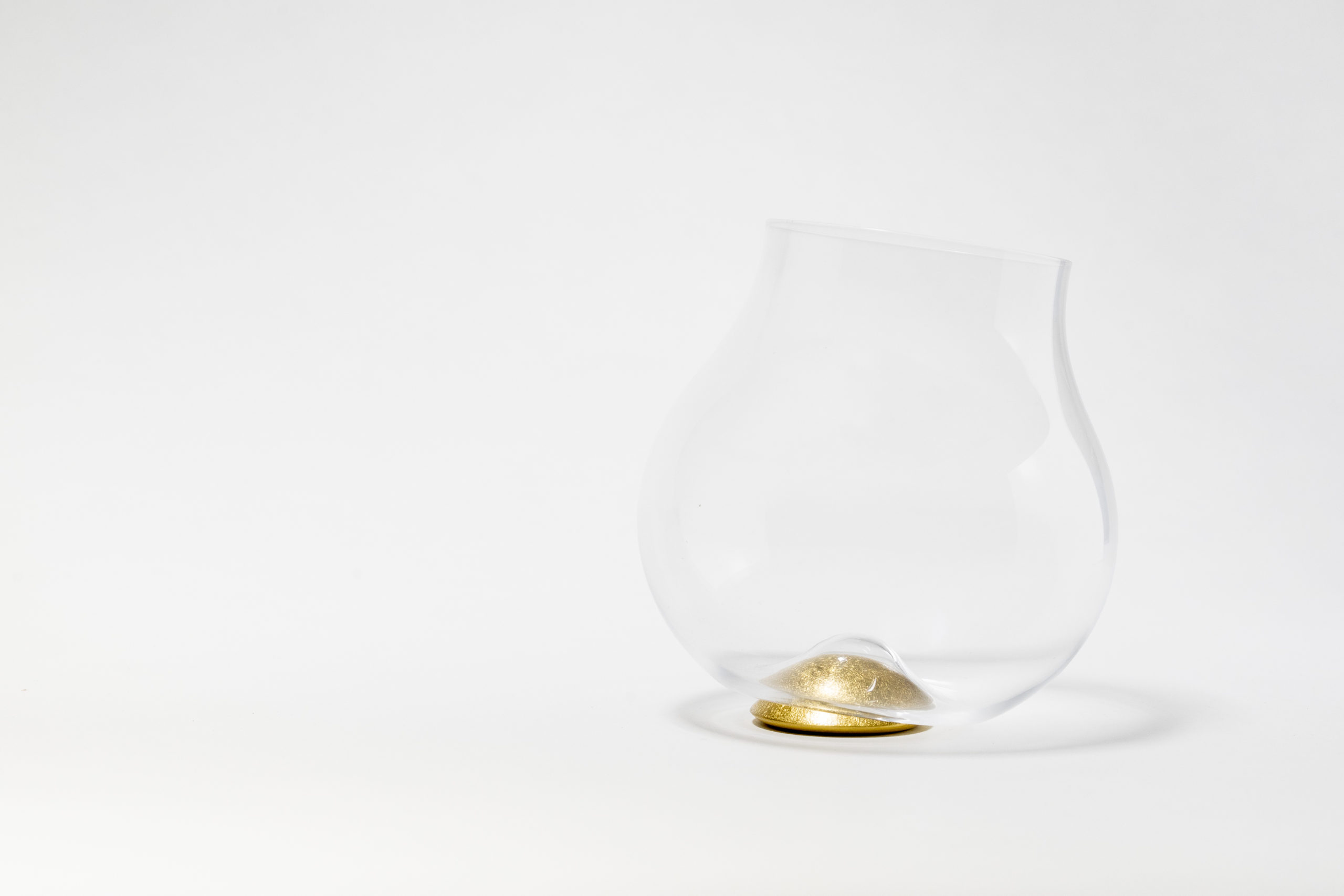 Wine glass AROWIRL Burgundy
Area: Takaoka, Toyama Prefecture
Brand: KISEN
Material: Glass[GOLD] Lead-free Glass, Brass [SILVER] Lead-free Glass, Aluminum
Size(mm): φ110×H110 (700ml)
Weight (g):[GOLD] Pivot Base: 86g、[SILVER] Pivot Base: 28g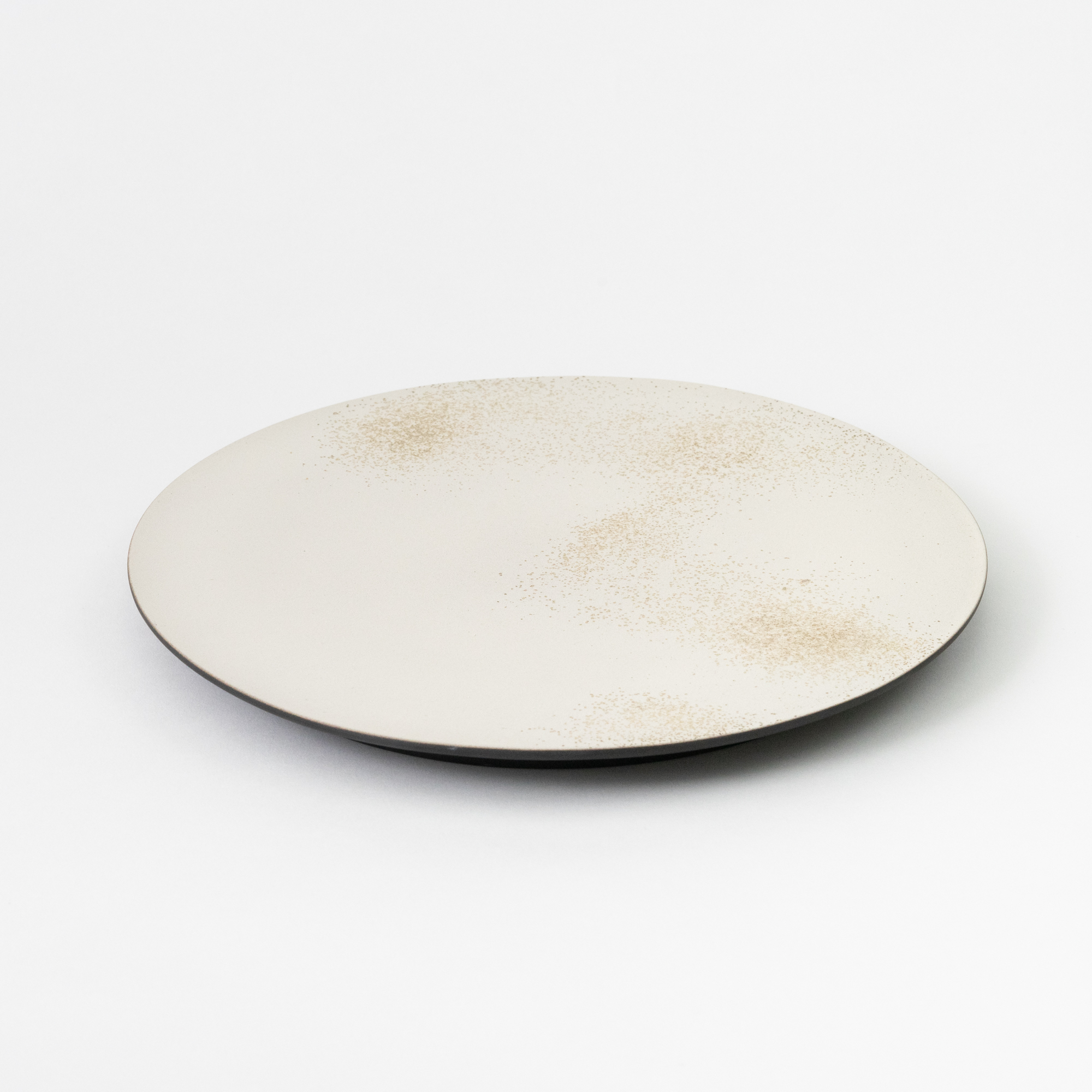 This graceful plate was made in Tokoname, Aichi Prefecture, using the region's clay, with a matt texture that will accentuate your dishes beautifully. This item was made using a technique called "tatara", a method of forming sheet-like clay into various shapes.
Area: Tokoname, Aichi Prefecture
Brand: BAN PROJECT
Size(mm) : φ240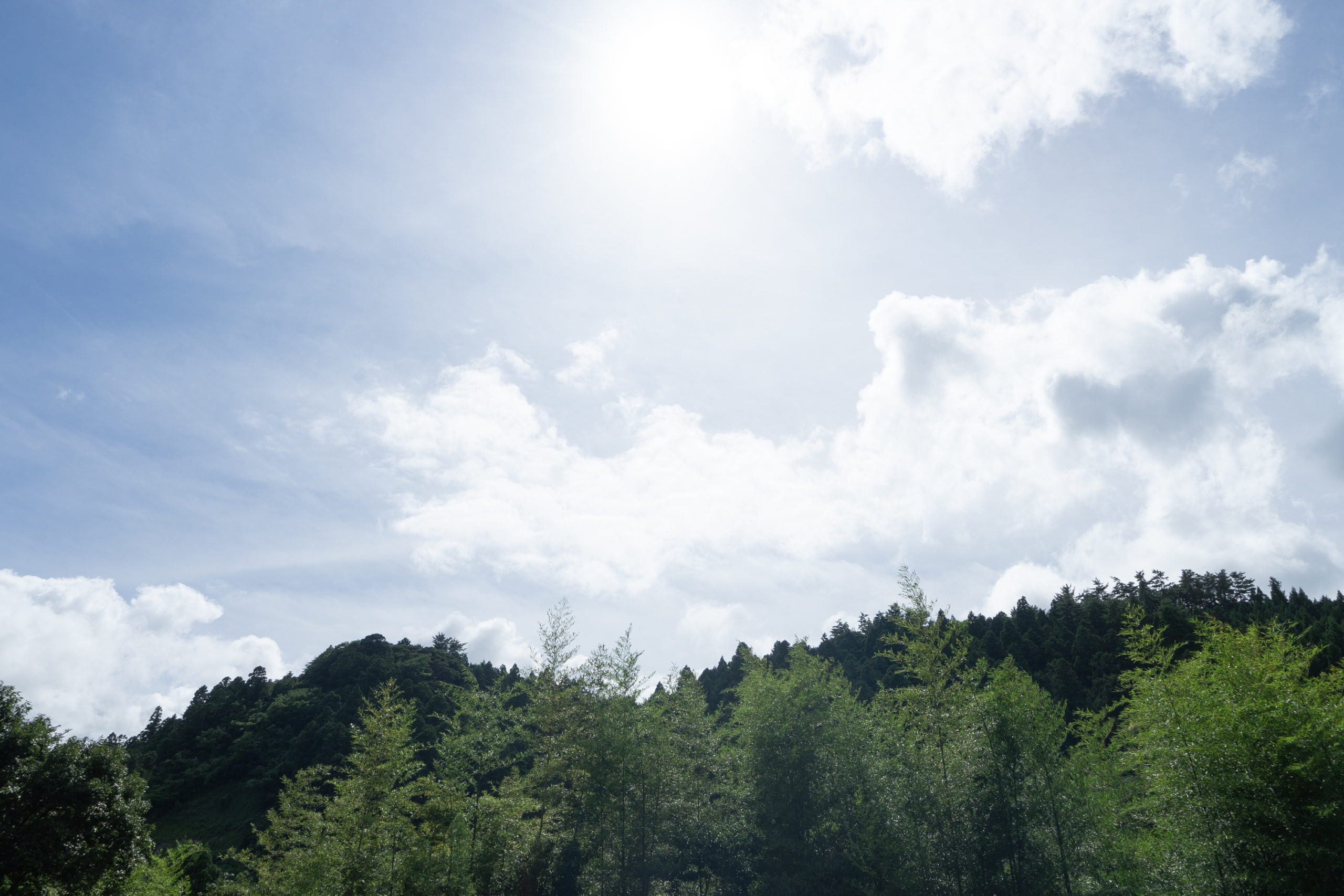 "Enpo Saryo – A Distant Tea House" is an imaginative restaurant created by HULS Gallery to inspire people with the beauty of food and dining. We aim to introduce a series of full-course meals that will take you beyond the ordinary but can be prepared at home, created exclusively for HULS by innovative chefs from Japan and around the world. Enjoy the harmonious combination of these special dishes with unique lacquerware, ceramics, and other tableware carefully selected by HULS Gallery. Complete with inspirational photographs and full recipes in both Japanese and English, and available online through the HULS Gallery website and social media.