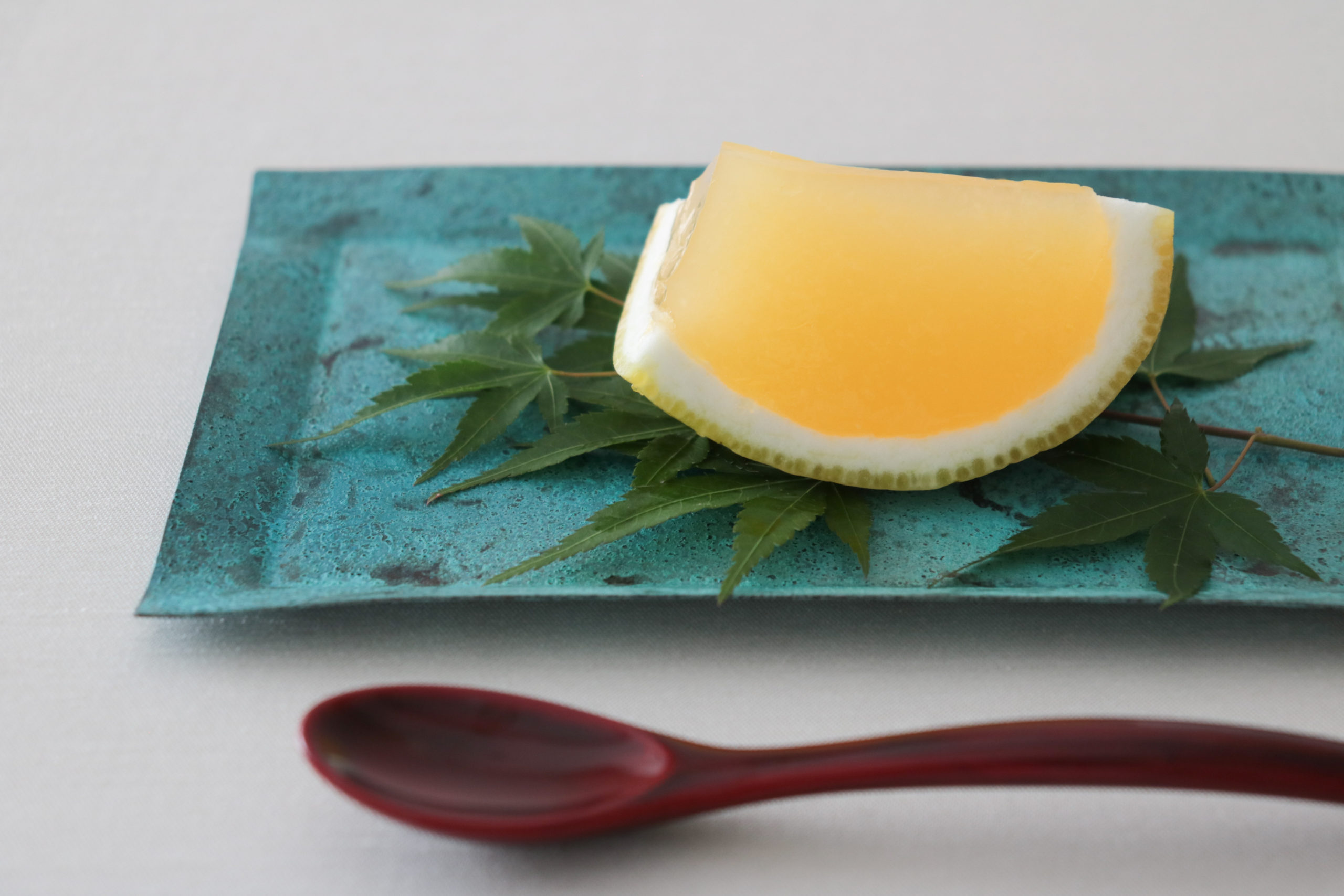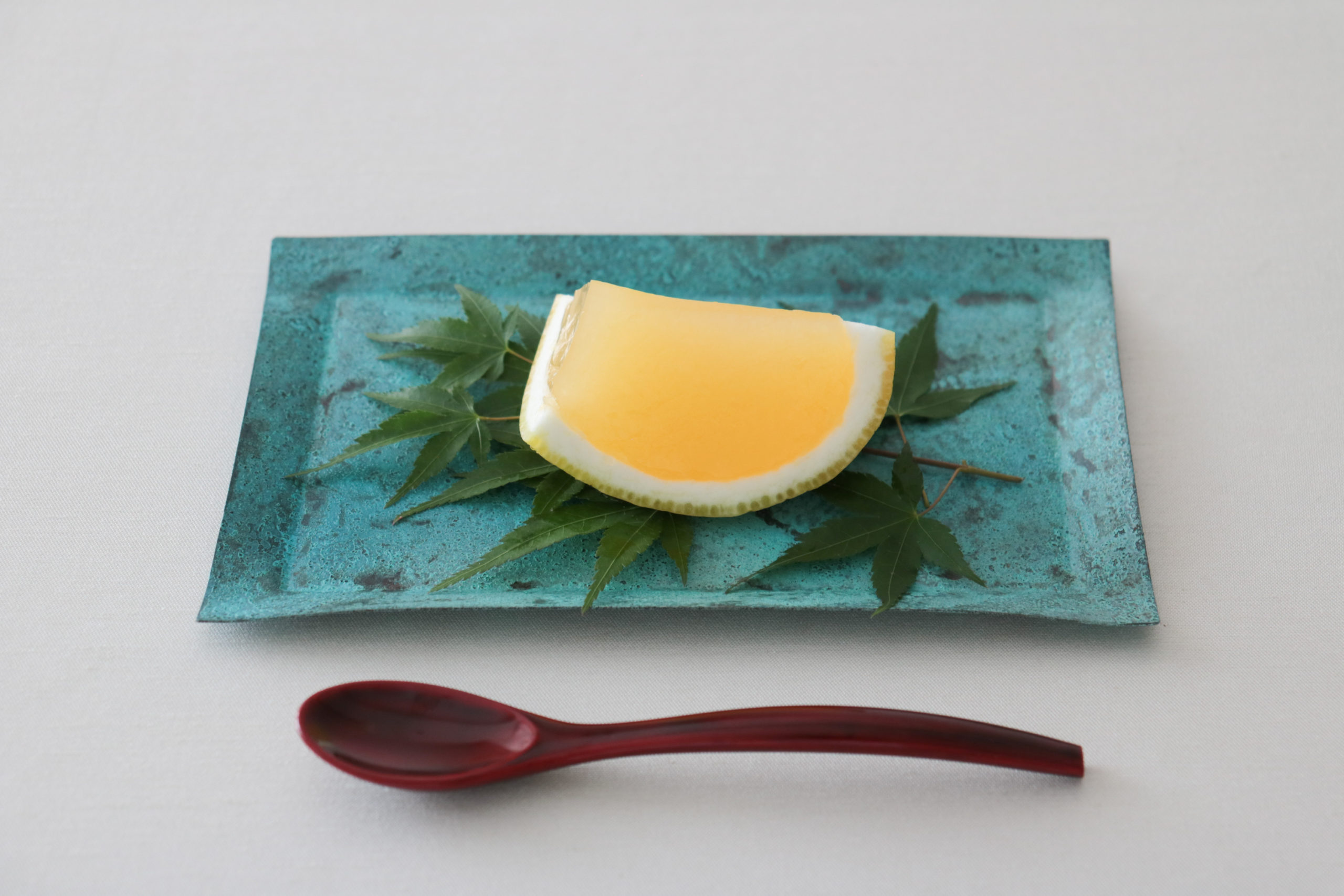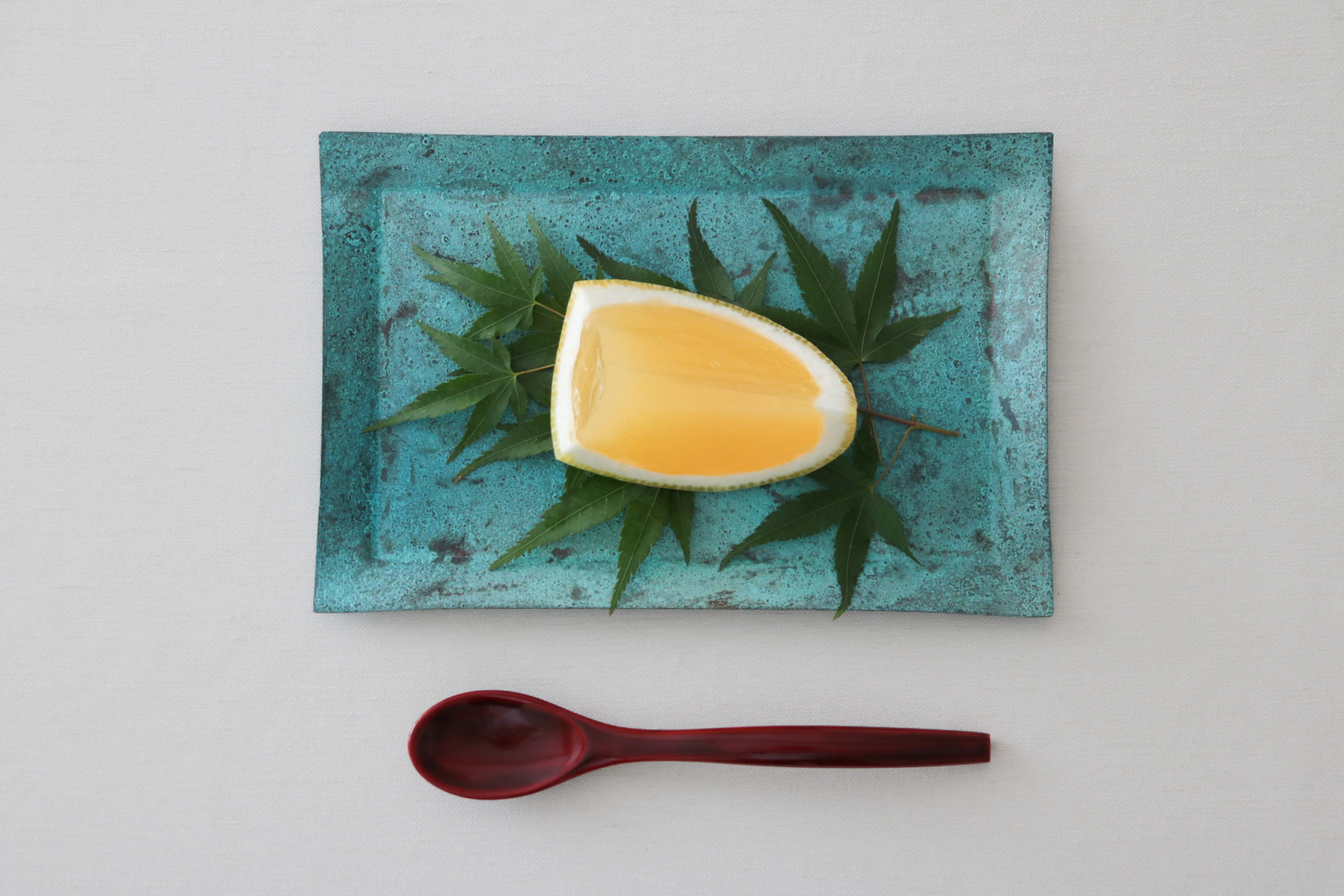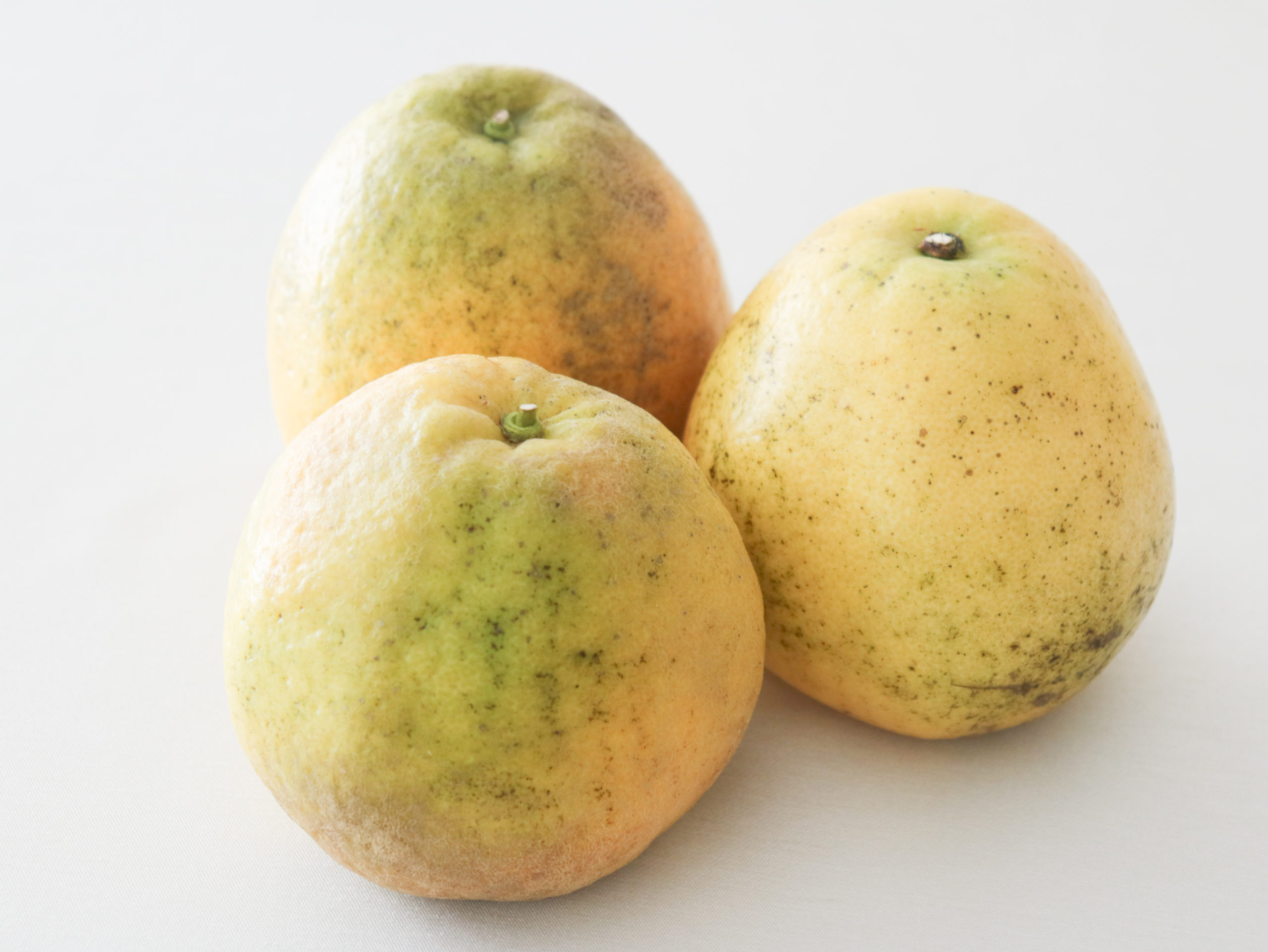 Kawachi-bankan pomelo jelly
For the end of this summer course, sweet and sour Kawachi-bankan jelly is refreshing. Kawachi Bankan is a large, yellow citrus that can be harvested from early-summer to summer. It looks and feels similar in size to grapefruits. However, unlike grapefruit, it lacks bitterness and has a sweetness to it that can be enjoyed refreshingly. This time, I chose a turquoise-blue colored tray that is reminiscent of summer, contrasting beautifully with the yellow color of the jelly. The combination of the opposite colors gives a summery look to the dish. Kawachi bankan can be substituted with grapefruit, orange, etc., so please try using your favorite citrus fruits. If you like alcohol, you can enjoy it by adding liqueur such as Cointreau.
Recipe
・Kawachi-bankan pomelo・・・3
・Granuated sugar・・・about 10 ~ 15g
(Adjust the sweetness according to your preference )
・Plate gelatin・・・15g (Soften with water)
1.Wash the citruses thoroughly and drain them. Cut the top of the fruit and hollow out the contents with a spoon.
2.Squeeze the pulp of "1" in a bowl and remove the seeds. Use 600 ml of juice for the jelly. If the juice is not enough at this time, add ready-made grapefruit juice and adjust to a total of 600 ml.
3.Add "2" with granulated sugar and the drained plate gelatin to a pan and heat. When the gelatin melts, remove the pan from the heat.
4.Once cooled, pour "3" into the hollowed "1" and put it in the refrigerator to chill and harden. Then, serve it on a plate, and it's done.
The jelly will harden in the refrigerator for about 2 hours. If you want to cut the jelly along with the fruit peel, it will be easy to cut after chilling it in the refrigerator overnight.
For gelatin, the amount of gelatin added to the liquid varies, depending on the manufacturer or grade of gelatin, so be sure to check the notation.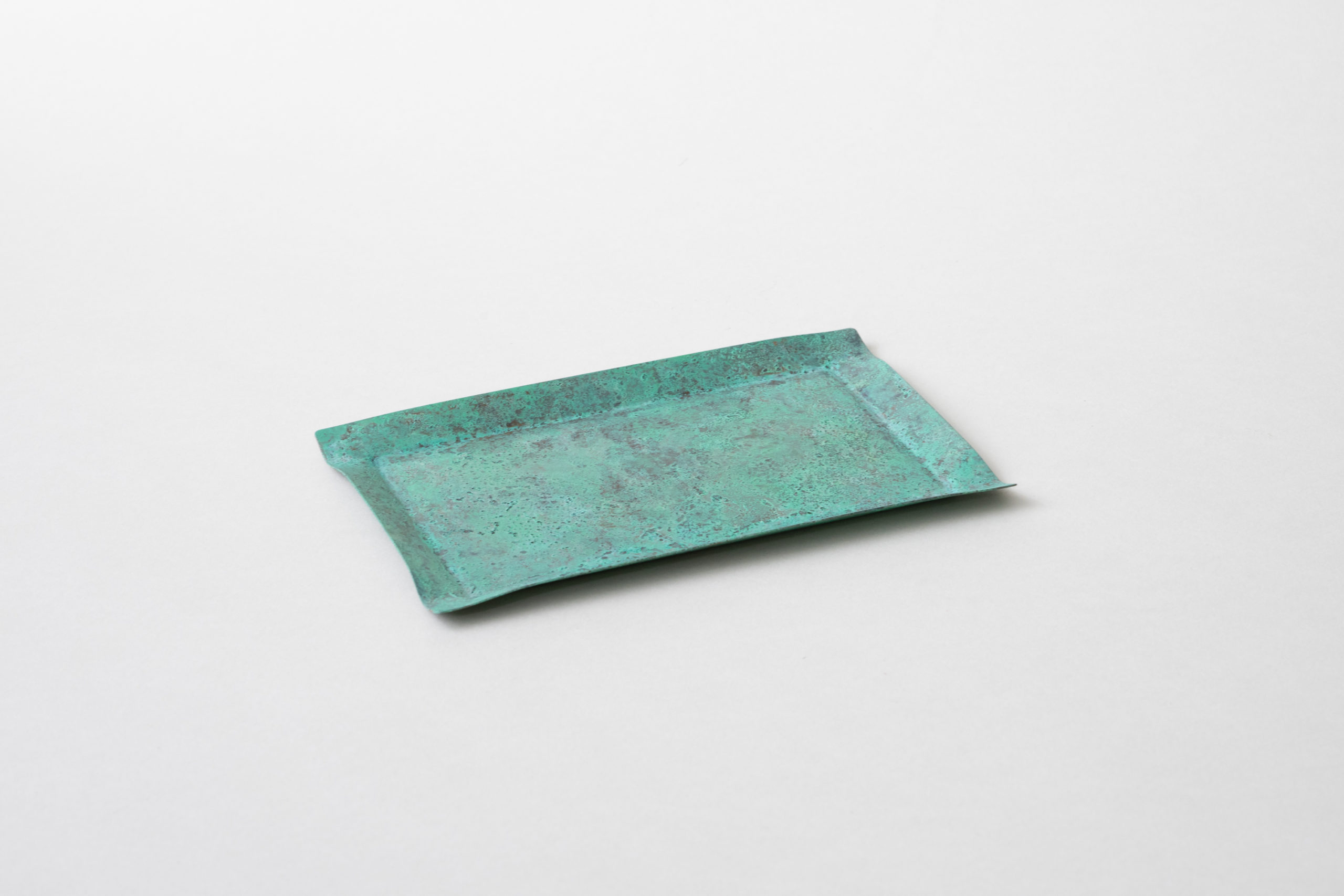 Tray Square S
Area: Takaoka, Toyama Prefecture
Brand: Momentum Factory Orii
Material: Copper
Size(mm): w180 × d115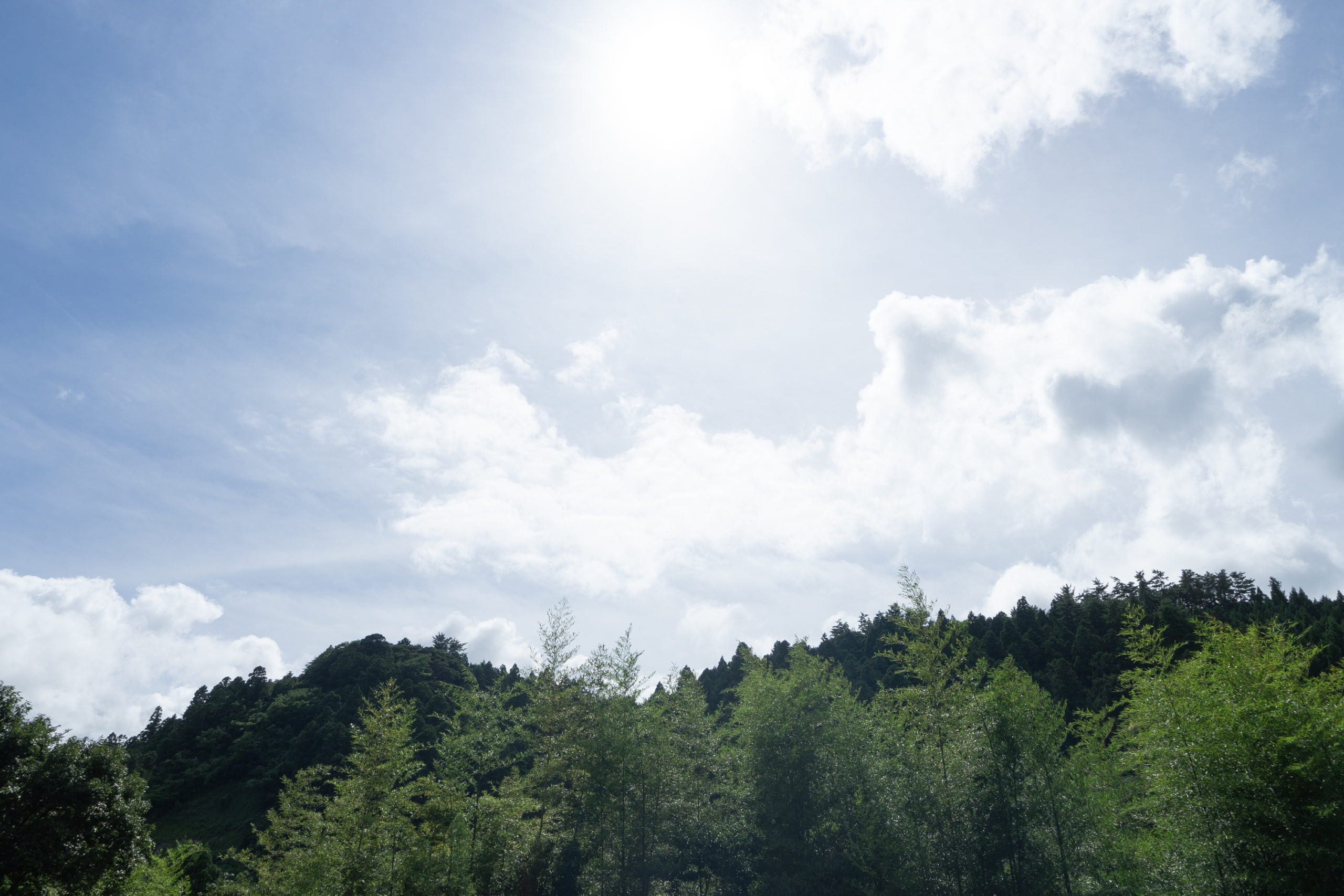 "Enpo Saryo – A Distant Tea House" is an imaginative restaurant created by HULS Gallery to inspire people with the beauty of food and dining. We aim to introduce a series of full-course meals that will take you beyond the ordinary but can be prepared at home, created exclusively for HULS by innovative chefs from Japan and around the world. Enjoy the harmonious combination of these special dishes with unique lacquerware, ceramics, and other tableware carefully selected by HULS Gallery. Complete with inspirational photographs and full recipes in both Japanese and English, and available online through the HULS Gallery website and social media.