HULS GALLERY SINGAPORE is holding a mini exhibition of Shinji Terauchi. Mr. Terauchi is a ceramicist who is the fourth generation head of Riso Porcelain, a manufacturer of Arita ware. In the talk session we hosted as an affiliated event of this exhibition, he spoke about his thoughts on creating works that are originated from old Imari ware and the development of new ceramic clay in the production area.
*The article is divided into the first half (this page) and the second half (will be published at a later date).
– First of all, please introduce yourself, Mr. Terauchi.
I was born in Arita about 60 years ago and studied at an art university. I hadn't been told by my parents to take over the kiln, so I wasn't aware of it. However, when I was in my last year of high school and thinking about my career path, I thought it was necessary to study art if I wish to take over my family business.
– Did you start researching old Imari ware immediately after graduating from university?
No. Although I studied in the design faculty, I worked at a major trading company for two years in product development after graduation. This is because I was advised that the distribution sector is crucial in our business field. And in the next two years, I worked as a sales representative for the department stores in Tokyo.
Subsequently, I returned to Arita but I did not like porcelain. It is because Arita porcelain ware has a cold image of being an industrial product. Contrastingly, I was fascinated by the handmade earthenware that we do not have in Arita. Thus, I started to source different clays from all over the country and tried to fire them. It also included Shigaraki and Karatsu.
I believed it was unnecessary to stick to porcelain just because I'm in Arita. I wanted to see how much I can do with Riso Kiln. I also painted on earthenware, made various vessels, and held solo exhibitions. It was fun and good, but I realized that I couldn't attain the level that I desired. I was struggling with things that I couldn't do with the materials and methods of the production area. And it was around that time, I discovered Early Imari*, which brought me to feel the warmth of human hands even though it was porcelain.
Our kiln is located on the site of Yi Sam-pyeong's residence. Therefore, we can find pieces of broken porcelain from 400 years ago at the back of the hills. But I didn't care about it at all until then. And later I realized the value and it made me think that "I will make a go of it in this land".
– You have touched many different clays. We can probably say this experience has made you what you are today.
I agree. I have come to think about things that can only be done in Arita. The encounter with Early Imari was shocking to me. I was invited to my childhood friend, Imaizumi Imaemon* XIV's house on one of New Year's Day. There was Early Imari ware that his father, Imaemon XIII was using. Then, I saw my friend bring them to serve delicacies. It was the moment that I learned about old Imari. I was so excited that I couldn't sleep that night.
– That's a good story, based on real-life experience. It was the starting point for your work. Please allow me to introduce Riso Porcelain, your main activity as a manufacturer of Arita ware. Mr. Terauchi is the head of Riso Porcelain and the company mainly produces tableware for restaurants. And Arita ware is usually made using molds but sometimes you create works using a potter's wheel for your solo exhibitions.
Right now, I am in a situation where I prioritize the work of my company as a manager rather than making porcelain as a ceramicist. However, I always try to work on clay either once or twice a year.
– You are also actively collaborating with famous chefs from Japan and overseas. And you produce the original tableware according to chefs' requests. In Singapore, your products are distributed to several Michelin-starred restaurants through HULS. Based on this, we have the impression that you are making unconventional products. In this exhibition at HULS GALLERY, you mentioned that each work is made using only Izumiyama porcelain stone. Can you explain about it?
When I first heard about this exhibition, I wondered what the theme should be. We thought a reset was necessary during the Covid-19 pandemic. And we wondered what would happen to the world when the pandemic is over as we had never experienced it before. It can be either good or bad. Under such circumstances, we started to think about the fundamentals of our production. I have been thinking about it for years, though.
And I was interested in the clay of Izumiyama. I am currently the vice-chairman of the Arita Izumiyama Quarry Partial-Affairs Association and have been involved with Izumiyama. Currently, Izumiyama porcelain stone is no longer in use. Although it was the birthplace of porcelain in Japan, it has become obsolete due to the quarrying of Amakusa porcelain stone since the end of the Edo period.
– Izumiyama is a place in Arita where the raw material for porcelain is sourced. And the discovery of the material made it the birthplace of Arita ware.
That's right. Partly because of that, what I was doing is to return to the origin. I have been keeping a small amount of the clay of Izumiyama some time ago and I decided to make something out of it.
– We suppose there are differences between your work of Izumiyama and the one made from Amakusa in terms of texture and touch. We would like our customers to touch it with their hands. What do you think?
Actually, it is quite difficult to say what's different. And if you compare my works of Izumiyama with the actual Old Imari made from Izumiyama clay in the Edo period, there should be some differences. I examined and noticed the difference while I was working on it.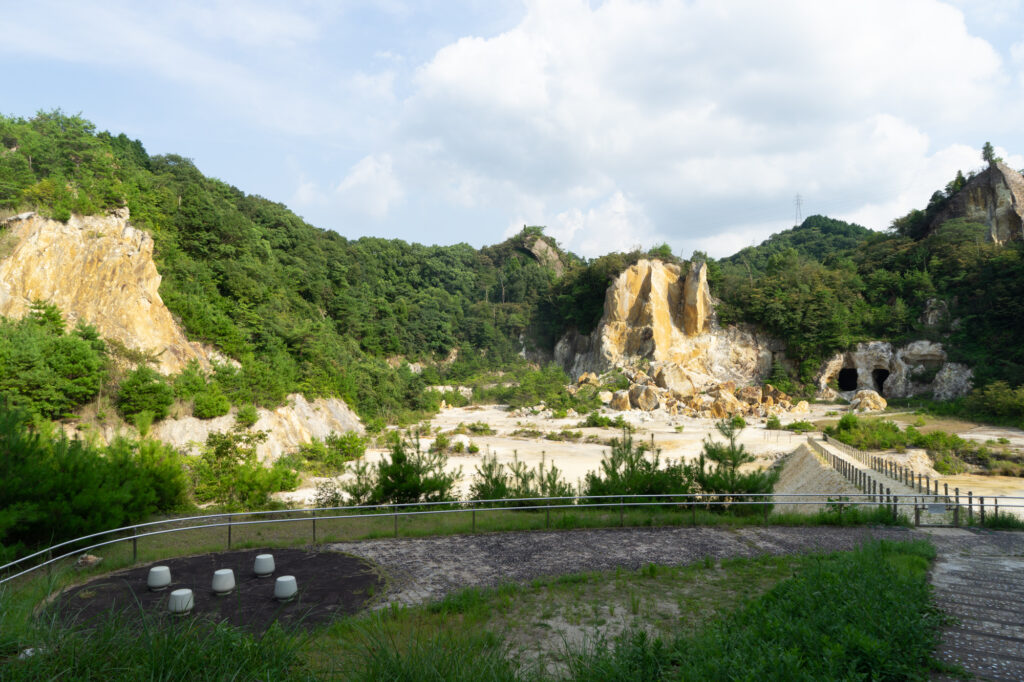 – It's a challenge to work with this new clay, isn't it?
It feels like starting from scratch. I think it will be one of the major pillars of my future activities.
– Can you tell us more about the solo exhibition?
This time, I have made a variety of items. I made tea ware because I like tea personally. And I made sake ware because I like sake and I am very fond of "guinomi" sake cups.
Just when I started to enjoy drinking sake, cold sake was getting popular. And around that time, I started making sake cups. Sake is usually served either hot or cold. I believe that an open-shaped sake cup is more suitable for cold sake than a straight body cup. I have been constantly searching and trying to create a shape that is comfortable for me to drink. I also thought about how sake will flow after it gets in my mouth.
As for the volume, people in the Edo period practiced the culture of "Henpai" (a custom to offer a cup of sake in return to the person who offered you the drink). This gave me an idea that it is best not to drink too much at once. And in today's context, it will be a good way to enjoy sake alone at home too.
Furthermore, talking about tea ware, I was told by the tea vendors that the number of people using the "kyusu" style teapots has been decreasing. Therefore, I began thinking about how can we drink tea in the future. I am aiming to create a shape that suits the modern tea culture. For instance, a "Houhin" style teapot is easy to maintain and can be washed quickly after use.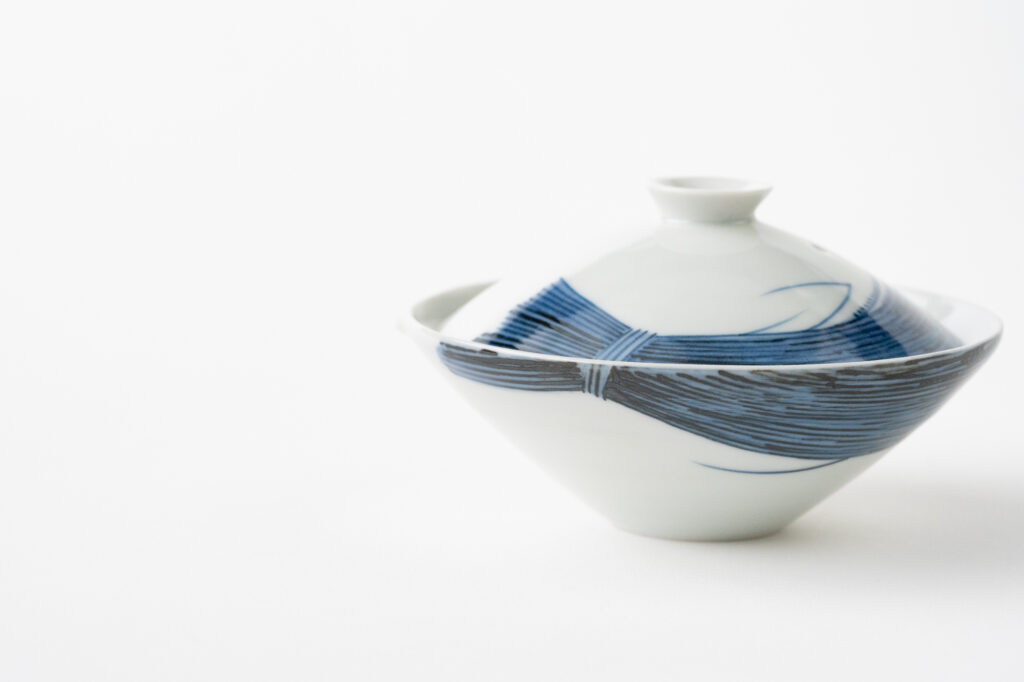 – There sizes of "Houhin" vary from one to another.
Yes. Because they were made by hand. And if they break, there is no lid to replace. But you can repair it with kintsugi.
– Please visit HULS GALLERY and take a look at Mr. Terauchi's works. Some of them are listed on our online store.
My works are made of 100% Izumiyama clay which cannot be found in any other place.
Notes:
* Early Imari: Porcelain ware produced in the early 17th century in Arita, which is characterized by blue painting. They are the oldest production in the category of old Imari ware produced in the Edo period in Arita.
* Imaizumi Imaemon: A celebrated family of ceramicists in Arita, producing porcelain in Iro-Nabeshima style. Imaizumi Imaemon XIV and his father XIII are designated Living National Treasure.